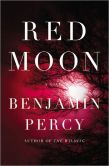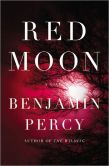 The premise of Red Moon is simple yet fascinatingly expansive: in an alternate timeline full of allegorical resonance to ours, werewolves, or "lycans," function as the oppressed global minority forced to turn to terrorism in their pursuit of justice and equality. Shepherding a large cast through a slambang plot, Percy never neglects the moral dimensions of his parable. conjuring up a haunting portrait of a country sliding into the very tyranny that it very vocally attacks.
In a guest post for Discover Great New Writers, Percy writes about things that go bump on the road – and in his book.
Scares

A Guest Post by Benjamin Percy


If you're a nerd, like me, then you obsessively watch the DVD extras on all your favorite films. Like Halloween (a film I love so much that every October I make its soundtrack my ringtone). In the short documentary about the film, John Carpenter talks about writing the screenplay. He and Debra Hill compiled a list of scares. Whatever they could drum up—from life, from imagination, from other movies and books—that chilled, creeped, spooked. Then they figured out how to link them together, build a story.

Like the kid in the clown mask. Or somebody climbing into a car and discovering the windows fogged over. From the inside. Meaning someone is hiding in the backseat. And yes, boys and girls, it's Michael Meyers and he wants to play.

When I first sat down to write Red Moon, I came up with my own list of scares. I did not design the story around these scares, but I used them to punctuate scenes. Some came from life, some from the ether. Some I used, some I didn't.

Here's one I used:

One afternoon, when I was driving a long lonely stretch of interstate in central Illinois, I approached a semi. The back end of its trailer was covered in grime, and through the grime someone had scrawled, in big sloppy capitol letters, SHOW ME YOUR BOOBS.

When I passed the semi, I peered up at the driver. Instead of a man, I saw a clown mask. A pale white face. A too red smile. A big bald forehead with hair frizzing out the sides. And black eyes. They were watching me (maybe waiting for me to show him my boobs?).

I crushed the accelerator and put the truck in my rearview. But I have never been able to shake the image of him.

I knew I had to find a way to work him into Red Moon. I knew he would scar my reader as he scarred me. And sure enough, people approach me constantly, saying, "I can't stop thinking about that clown."

Consider yourself warned, reader. He is crouched somewhere in the pages of this novel, waiting to leap out at you. –Benjamin Percy
---

Miwa Messer is the Director of the Barnes & Noble Discover Great New Writers program, which was established in 1990 to highlight works of exceptional literary quality that might otherwise be overlooked in a crowded book marketplace. Titles chosen for the program are handpicked by a select group of our booksellers four times a year. Click here for submission guidelines.