Chilling reads for the season.
With Halloween just around the corner, we went back through our Guest Books archives (imagine a dimly-lit chamber festooned with cobwebs behind a creaky door) to find four spell-binding reads chosen by some of today's most popular authors. When Stephen King calls a book "a horror classic," you know it's the perfect title to read with a jack'0'lantern close at hand.
---
Stephen King recommends:
By Peter Straub
"A horror classic, written in prose that's both gorgeous and readable. This book creeps into the reader's fear-centers and takes charge of them."
---
Grant Morrison recommends:
By Robert Anton Wilson
"This is the best of several great novels written by a much-missed pop philosopher. The setting is Basel, Switzerland in 1914, where James Joyce and Albert Einstein find themselves implicated in a frightening occult mystery which can only be solved by the application of their peculiar talents. Masks of the Illuminati is not only a brilliant historical detective story and a scary metaphysical thriller with a satisfying twist in the tail, it also offers some genuine, life-changing revelations along the way. Shining the light of Modernism and quantum theory on the old certainties and terrors of the Victorian era, Masks demonstrates how old paradigms surrender to new."
See Grant Morrison's other picks here.
---
Neil Gaiman recommends:
By John Masefield
"Only one English Poet Laureate also wrote wonderful children's books. Masefield took his hero Kay Harker through time and space in this magical adventure, as one brave boy is all that stands against the forces of black magic in their quest for the Box of Delights."
See Neil Gaiman's other picks here.
---
Andrew O'Hagan recommends: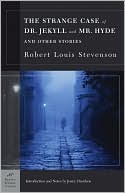 The Strange Case of Dr. Jekyll and Mr. Hyde
By Robert Louis Stevenson
"Some stories are so brimming with psychological and cultural truth that they seem not to be invented by an individual but by a whole culture. Dr. Jekyll is Scottish all the way down to its strange bones: a tale of how we are, each of us, more than one person. It is exciting, surreally in touch with our deepest instincts, and Stevenson wrote it in a few days' fever after a nightmare. Once read, the book never leaves your mind, and it seems, indeed, to reflect your own mind back at itself."
See Andrew O'Hagan's other picks here.