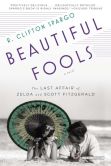 Forget the past — what you can of it, and turn about and swim back home to me, to your haven for ever and ever — even though it may seem a dark cave at times and lit with torches of fury; it is the best refuge for you — turn gently in the waters through which you move and sail back….

–from F. Scott Fitzgerald's letter of April 26, 1934, to his wife, Zelda, then in a mental hospital
A monthlong exhibition of Zelda Fitzgerald's paintings, organized by her husband, opened in New York on this day in 1934. It was an event surrounded by the tangle of private and public tragedy which seemed to pursue the Fitzgeralds. Under in-patient treatment for her third mental breakdown, Zelda attended the exhibition opening with a nurse — her husband having assured her doctors that the overnight visit to New York would allow "no time to set up the old machinery of quarreling." Among the issues between them was Zelda's view that Scott had reduced their relationship to that of nurse-patient — one of her paintings is a Christ-like portrait titled Scott in Thorns — and had belittled or patronized all her artistic efforts, while picking their marriage clean for his own writing.

Among Scott and Zelda's efforts to "sail back" into a loving relationship over their last six years was the couple's eight-day holiday to Cuba in 1939, this imagined in R. Clifton Spargo's recent novel Beautiful Fools as "The Last Affair of Zelda and Scott Fitzgerald." While little is known about what happened on the trip, it was certainly the last time the two would see each other before Scott's death in 1940, and it was not entirely romantic — this time Zelda was forced to play the nurse to Scott, his drunken behavior causing him to be beaten up and hospitalized.
---
Daybook is contributed by Steve King, who teaches in the English Department of Memorial University in St. John's, Newfoundland. His literary daybook began as a radio series syndicated nationally in Canada. He can be found online at todayinliterature.com.