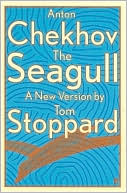 October 18: Onthis day in 1896 Anton Chekhov's TheSeagull opened in St. Petersburg. This is the first-written of Chekhov'smasterpieces, and though now regarded as one of the most influential plays inmodern drama, its opening night was a flop of career-ending proportions. Duringthe writing, Chekhov admitted that he was "flagrantly disregarding thebasic tenets of the stage," not only for having so much talk and so littleaction, but for having "started it forteand ended it pianissimo." Duringrehearsal he had implored the actors and the director to give up the usualbombastic style and give his understatements a chance: "The point is, myfriends, there's no use being theatrical. None whatever. The whole thing isvery simple. The characters are simple, ordinary people." Convinced ofdisaster, he nearly withdrew his permission for the production, and then nearlydid not attend the opening himself; by Act Two he was hiding backstage from thebooing and jeering; at two a.m. he was still walking the streets alone. When hefinally returned home, he declared to a friend, "Not if I live to be sevenhundred will I write another play."
One explanation for the hostile reception is that thepremiere of The Seagull was also abenefit night for an actress popular for her work in broad comedy, and many inattendance had come expecting laughs rather than Chekhovian subtlety. When The Seagull got its second performanceseveral days later it was enthusiastically received, and was soon playingthroughout Russia. When the play was directed by Stanislavsky two years laterat the newly founded Moscow Art Theatre, it was a huge success. Today, theemblem on the main stage curtain of the MAT (since 1996, the Chekhov Moscow ArtAcademic Theatre), is a seagull.
Chekhov did not see any of the MAT opening,as he was in Yalta trying to overcome his recently diagnosed tuberculosis. Buthe had seen some rehearsals, and at them the actress Olga Knipper, who becamehis wife in 1901, three years before his death. "Give me a wife, who, likethe moon, would not appear in my sky every day," Chekhov had written hispublisher A. S. Suvorin in 1895; by 1899 he was writing Olga, "Greetingslast page of my life, great actress of the Russian land…."
See our interviewwith Tom Stoppard on translating Chekov's drama.
---
Daybook is contributed by Steve King, who teaches in the English Department of Memorial University in St. John's, Newfoundland. His literary daybook began as a radio series syndicated nationally in Canada. He can be found online at todayinliterature.com.