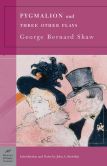 On this day in 1898 George Bernard Shaw married Charlotte Payne-Townsend. Both were in their early forties and both professed a distaste for matrimony; how they came to tie a knot that would last for forty-five years — though celibate ones, apparently — is a story that has intrigued all Shaw's biographers, as it seems to have intrigued Shaw himself.
When their courtship began, Shaw was a struggling writer-reviewer, Payne-Townsend a recent heiress. Shaw told the actress Ellen Terry that he took on "the Irish lady with the light green eyes and the million of money" as a project: "I am going to refresh my heart by falling in love with her — I love falling in love — but, mind, only with her, not with the million; so someone else must marry her, if she can stand him after me." Shaw maintained this jocular detachment even with Payne-Townsend, declaring not only his love for but his fear of "the other Charlotte, the terrible Charlotte, the lier-in-wait, the soul hypochondriac, always watching and dragging me into bondage." As their relationship and Shaw's apprehensions progressed, so did his joking to his friends:
I will put an end to it all by marrying. Do you know a reasonably healthy woman of about sixty, accustomed to plain vegetarian cookery, and able to read & write enough to forward letters while her husband is away?… No relatives, if possible. Must not be a lady. One who has never been in a theatre preferred. Separate rooms.
After the wedding, Shaw turned the event to farce by writing (anonymously) this marriage notice for the tabloids:
As a lady and gentleman were out driving in Henrietta-st., Covent-garden yesterday, a heavy shower drove them to take shelter in the office of the Superintendent Registrar there, and in the confusion of the moment he married them…. Startling as was the liberty undertaken by the Henrietta-st. official, it turns out well. Miss Payne-Townsend is an Irish lady, with an income many times the volume of that which "Corno di Bassetto" [one of Shaw's early pseudonyms] used to earn, but to that happy man, being a vegetarian, the circumstance is of no moment…. Years of married bliss to them.
---
Daybook is contributed by Steve King, who teaches in the English Department of Memorial University in St. John's, Newfoundland. His literary daybook began as a radio series syndicated nationally in Canada. He can be found online at todayinliterature.com.