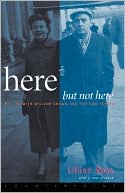 The legendary New Yorker editor William Shawn was born on this day in 1907. Ved Mehta's Remembering Mr. Shawn's New Yorker is subtitled "The Invisible Art of Editing," and in the opening chapters we are given a detailed description of the artist at work on Mehta's first prose for the magazine. Shawn provided nearly twenty sets of manuscript revisions for some submissions. After one two-hour discussion of commas and word usage, Mehta thanked Shawn for his efforts, commenting that the piece now belonged as much to the editor as the author. "No, it belongs to you," Shawn replied, "I just made it more yours."

Most memoirs of Shawn's era are full of such tributes to his care and craft, though Lillian Ross's Here but Not Here claims that Shawn's job made him feel "trapped, trapped forever, in what seemed to him was nonexistence." Her memoir of their decades-long relationship is subtitled "A Love Story"; these are the final paragraphs:
To the world, William Shawn was known as the great editor, but in essence he was a poet. He created poems for me at odd moments, even while we rode in a taxi on the way to our office. His poems were often about the cherished fragments of the love and warmth he had longed for and was able to find in his life. He liked to think about a little jazz combo playing on after he was gone, and of books that would still be read long after he was dead.

"Our time together defied death," Bill had said to me. Every day, I am able to look out at the world with all the joy and laughter and life he put into me, and so I'm able to find joy and laughter and life always and know we are still together, defying death.
---
Daybook is contributed by Steve King, who teaches in the English Department of Memorial University in St. John's, Newfoundland. His literary daybook began as a radio series syndicated nationally in Canada. He can be found online at todayinliterature.com.