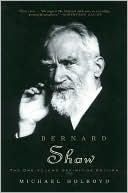 George Bernard Shaw was born in Dublin on this day in 1856. According to his calculations, he arrived "fifty years too soon" and as if from another planet: "Whether it be that I was born mad or a little too sane, my kingdom was not of this world."

If his descriptions of his childhood are to be believed, Shaw got his first feelings of estrangement at home. He portrays his parents as wildly divergent oddballs, their only shared emotion being a feeling of disinterested neutrality towards their offspring: "We as children had to find our own way in a household where there was neither hate nor love." Biographer Michael Holroyd shows how Shaw, whether out of an instinct for survival or a love of paradox, interpreted his emotional privations as a boon. Mother's habit of "lavishing indifference" upon him granted Shaw objectivity and taught him to keep people at arm's length—close enough to be moved by them, distant enough to be moved only to a quip, a quarrel, or a cause. And Dad was "a model father" because his ruinous enthusiasms for alcohol and tobacco inspired the son to abstain from both:
A boy who has seen "the governor," with an imperfectly wrapped-up goose under one arm and a ham in the same condition under the other (both purchased under heaven knows what delusion of festivity), butting at the garden wall of our Dalkey Cottage in the belief that he was pushing open the gate, and transforming his tall hat to a concertina in the process, and who, instead of being overwhelmed with shame and anxiety at the spectacle, has been so disabled by merriment (uproariously shared by the maternal uncle) that he has hardly been able to rush to the rescue of the hat and pilot its wearer to safety, is clearly not a boy who will make tragedies of trifles instead of making trifles of tragedies.
Or, as he liked to advise, "If you have skeletons in the closet you may as well make them dance." 
---
Daybook is contributed by Steve King, who teaches in the English Department of Memorial University in St. John's, Newfoundland. His literary daybook began as a radio series syndicated nationally in Canada. He can be found online at todayinliterature.com.