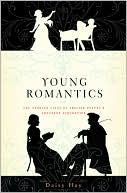 July 8: Percy Bysshe Shelley died on this day in 1822, or thereabouts — having disappeared in a storm on July 8th while sailing his boat, the Don Juan, his body did not come to shore for another ten days. Most of the first-hand details of Shelley's last days and burial come from Records of Shelley, Bryon and the Author, by Edward John Trelawny, the novelist-adventurer who snatched Shelley's heart from the fire, and added lines from Shakespeare's The Tempest to his epitaph: "Nothing of him that doth fade, / But doth suffer a sea-change / Into something rich and strange."
Trelawny's account depicts Shelley as an enthusiastic but inattentive skipper, with the bad habit of reading while he steered; two books, a copy of Aeschylus's plays and an edition of Keats's poems, were found in his coat pockets. The excerpt below is from Trelawny's description of the legendary shoreline cremation near Viareggio, Tuscany; at this point they are digging to retrieve Shelley's body from the sand where it had been stored for three weeks, awaiting the completion of the paperwork:
In the meantime Byron and Leigh Hunt arrived in the carriage, attended by soldiers, and the Health Officer, as before. The lonely and grand scenery that surrounded us, so exactly harmonized with Shelley's genius, that I could imagine his spirit soaring over us…. As I thought of the delight Shelley felt in such scenes of loneliness and grandeur whilst living, I felt we were no better than a herd of wolves or a pack of wild dogs, in tearing out his battered and naked body from the pure yellow sand that lay so lightly over it, to drag him back to the light of day…. Byron was silent and thoughtful. We were startled and drawn together by a dull, hollow sound that followed the blow of a mattock; the iron had struck a skull, and the body was soon uncovered…. After the fire was well kindled we repeated the ceremony of the previous day; and more wine was poured over Shelley's dead body than he had consumed during his life. This with the oil and salt made the yellow flames glisten and quiver.
---
Daybook is contributed by Steve King, who teaches in the English Department of Memorial University in St. John's, Newfoundland. His literary daybook began as a radio series syndicated nationally in Canada. He can be found online at todayinliterature.com.