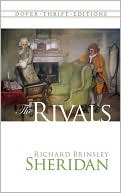 January 17: Richard Brinsley Sheridan's TheRivals, his first play, premiered on this day in 1775, launching him tofame and one of his characters, Mrs. Malaprop, into tongue-twisted history.Sheridan's desire to skewer language must have been inspired by time spent as a"rhetorical usher" in his father's speech academy in Bath, England.Mrs. Malaprop certainly does to language what a spectacular dropout from aschool of elocution might. She pictures on the banks of the Nile not analligator but an "allegory"; she commands young Lydia Languish, whomoons over an unsuitable beau, "to forget this fellow—to illiterate him, Isay, quite from your memory"; and she will not tolerate the suggestionthat her vanity makes her "deck her dull chat with hard words which shedon't understand":
There, sir, an attack uponmy language! what do you think of that?—an aspersion upon my parts of speech!was ever such a brute! Sure, if I reprehend any thing in this world, it is theuse of my oracular tongue, and a nice derangement of epitaphs!
While modern collectors ofmalapropisms and their cousins—spoonerisms, eggcorns, misheard lyrics, andconfused quotations—harvest from all fields, politicians are prized, andrecently fertile, ground. In his introduction to George W. Bushisms V: New Ways to Harm Our Country, Calvin Trillinoffers the hypothesis that the former President's speech problems are caused bytrying to squeeze his Ivy League background into too-tight cowboy boots. Untilthe theory is rigorously tested—perhaps, says Trillin, through "extensiveinterviews with a significant sampling of boot salesman in places like Lubbockand Wichita Falls ('Yes, sir, when he first came in here—wearing some of themDocksiders, they call 'em, with no socks—he was talkin' away just as pretty asyou please'"—we are helpless before the data, such as the celebratedparallelism which gave the fifth collection its subtitle: "Our enemies areinnovative and resourceful, and so are we. They never stop thinking of new waysto harm our country and our people, and neither do we."
---
Daybook is contributed by Steve King, who teaches in the English Department of Memorial University in St. John's, Newfoundland. His literary daybook began as a radio series syndicated nationally in Canada. He can be found online at todayinliterature.com.