Essential reading for those who wish to follow The Great Detective on his investigations.
---
The Complete Sherlock Holmes, Volume I
By Sir Arthur Conan Doyle
If you've never had the pleasure of Sherlock Holmes's company, start here. This collection introduces the "consulting detective" (and chronicles a surprising defeat!) in the novel-length "A Study in Scarlet," before moving on to marvelous short tales like "The Red-Headed League," and his confrontation with his enemy Moriarity in "The Final Problem." The volume winds up with one of the most gripping of Holmes's adventures, the eerie novel The Hound of the Baskervilles.
---
By Nicholas Meyer
While any number of books and films have attempted to build on the "canon" of Arthur Conan Doyle's original stories, this ingenious effort by writer and film director Nicholas Meyer builds on Holmes's infamous use of cocaine (in the solution of the title) to dispel boredom between cases. In Meyer's retelling, the detective's addiction sends him into delusions, and a concerned Watson enlists the help of none other than that sleuth of the mind Sigmund Freud to treat the problem. A more conventional case ensues, but the inspired partnership of the real and fictional investigators provides the true delights.
---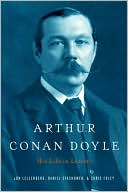 Arthur Conan Doyle: A Life in Letters
Edited by Jon Lellenberg, Charles Foley &
Daniel Stashower
This marvelous biography-through-correspondence, collated and arranged by a trio of eminent scholars of the man and his work, uses hundreds of Arthur Conan Doyle's letters—many until now only seen by researchers—to tell the story of a writer whose character is as fascinating as the fictional genius he invented. His deep attachment to his "Mam," his ambivalence toward the detective born from his pen, and the Spiritualist concerns which dominated his later life are all unfolded and given historical context, with photographs and excerpts from his work, including his own autobiographical Memories and Adventures from 1924.
---
By Michael Chabon
The author of The Amazing Adventures of Cavalier and Clay has often displayed his love of the adventure fiction of the 19th and early 20th centuries, and in this audacious novella he draws upon his adoration of Sherlock Holmes to spin a story of the Sussex countryside during the Second World War, and an old man—reportedly once a famed detective—who keeps bees. But when a parrot who speaks German is stolen from a boy who can't speak at all, the "old man" returns once again to the pursuit of the facts in the case, as devastating as they might be.
---
The Devil and Sherlock Holmes:
Tales of Murder, Madness, and Obsession
By David Grann
In the fascinating essay that headlines this collection of reported pieces, David Grann digs into a real-life mystery involving the death of a scholar reputed to be world's foremost expert on Sherlock Holmes, in the midst of his pursuit of a cache of near-legendary Arthur Conan Doyle papers. Grann's investigation probes the power of literary obsession and the little-known world of the detective's modern devotees, who call themselves "Sherlockians."