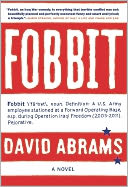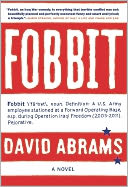 Dear Reader,
In an interview with Bill Tipper over at the B&N Review David Abrams mused, "What was it that Flannery O'Connor said about drawing with 'large and startling figures'? If I wanted readers to hear what I had to say, I had to shout through the megaphone of comedy."
Shouting through the megaphone worked, and the Discover selection committee readers weren't the only folks who heard what Abrams had to say in Fobbit, his scathingly funny novel of the Iraq War, a Fall 2012 Discover pick.
Here's just some of what other writers are saying:
"Fobbit, an Iraq-war comedy, is that rarest of good things: the book you least expect, and most want. It is everything that terrible conflict was not: beautifully planned and perfectly executed; funny and smart and lyrical; a triumph. David Abrams has taken up Joe Heller's mantle — or not mantle; more like his Groucho nose and his whoopee cushion — and so his debut marks the arrival of a massive talent." — Darin Strauss, author of Half a Life and Chang and Eng, Discover, Summer 2000

"Stories in and around war rely on irony to convey this unnatural human behavior; but in this appalling comedy the indifference of participants not actually being shot at or blown up — their headlong pursuit of folly — raises the immorality of war to white heat. This delightful, readable, believable and useful book made me furious!" — Thomas McGuane, author of Driving on the Rim

"Wavy Gravy once said, 'Without a sense of humor, it just isn't funny.' Fobbit is hilarious, but the subject matter is deadly serious. The protagonist is a 'fobbit,' the term used by the grunts for the non-combatants ensconced inside well-protected forward operating bases, oases of junk food, air-conditioning, and all the comforts of home. But throughout the book, the fobbits are shadowed by the presence of the infantry who live in horrible conditions and are the smelly, dirty, haggard reminders that there is a real war going on just outside the gates. This is a remarkable book because it was written by a man who served as a member of an army public relations team in Iraq, i.e. a fobbit himself. It is the rare writer — indeed, the rare person — who can step outside of himself and see with cold clarity the humor and pathos of his situation and then bring the reader to the same understanding. David Abrams is such a writer." — Karl Marlantes, author of Matterhorn, Discover, Summer 2010

"Fobbit is a searing view of life on a Forward Operating Base in Iraq and the constant contradictions faced by U.S. soldiers who are told to kick down a door one minute and win 'hearts and minds' the next. Funny and evocative, with great glimpses of soldier-speak and deployment day-to-day life, each laugh in the novel is accompanied with a troubling insight into the different types of battles that our soldiers encounter on a non-traditional battlefield." — Siobhan Fallon, author of You Know When the Men Are Gone, Discover, Spring 2011
And from The Los Angeles Times:
The problem with writing a darkly comic novel about soldiers caught in the maelstrom of modern warfare is that it inevitably invites comparison with Joseph Heller's classic Catch-22, which is unfortunate, because, let's face it, there's only one Mt. Everest in the Himalayas. Abrams seems to concede this tacitly in the text — his alter ego Gooding is reading the book by a swimming pool in Qatar while on R&R — and more pointedly again in his acknowledgments.

But Abrams does have a genuine sense of humor that is more often than not on point, and a productive sense of irony to go with it that takes full advantage of a milieu in which irony abounds. Fobbit is an impressive debut and holds out promise for more good things to come.
Cheers, Miwa
---

Miwa Messer is the Director of the Barnes & Noble Discover Great New Writers program, which was established in 1990 to highlight works of exceptional literary quality that might otherwise be overlooked in a crowded book marketplace. Titles chosen for the program are handpicked by a select group of our booksellers four times a year. Click here for submission guidelines.