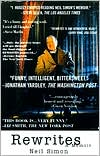 February 22: Neil Simon made his Broadway debut fifty years ago today, when Come Blow Your Horn opened for atwenty-month run. The play's success allowed Simon to escape the day job heloathed, writing comedy for the "Red Buttons Show," the "Sgt.Bilko Show," and other television hits. In Rewrites, his first book of memoirs, Simon describes his birthpains with his first play—over two-and-a-half years he did twenty-two completerevisions—as an against-all-odds comedy. But the opening night audience laughed,the reviews were acceptable to good, and Simon thought he was on his way, untilhe showed up at the box office the next morning to see how long the line ofticket-buyers was and saw, instead, the play's closing notice posted.
Then somebody coaxed the producersinto a gamble: hand out free tickets on the street corners, pack the house, andhope for the word-of-mouth to sweep through the city. In the end, the show wassaved only because both Noel Coward and Groucho Marx saw it, both of themafterwards praising the play within earshot of the gossip columnists.
Looking back, Simon saysthat the play "seems like the crude markings in a cave by the firstprehistoric chronicler," but it was a key moment in the development of hiscraft. The following, from a 1992 ParisReview interview on "The Art of the Theater," is Simon's responseto a question on his writing methods:
I've always felt like amiddleman, like the typist. Somebody somewhere else is saying, "This iswhat they say now. This is what they say next." Very often it is thecharacters themselves, once they become clearly defined. When I was working onmy first play, Come Blow Your Horn, Iwas told by fellow writers that you must outline your play, you must know whereyou're going. I wrote a complete, detailed outline from page one to the end ofthe play. In the writing of the play, I didn't get past page fifteen when thecharacters started to move away from the outline. I tried to pull them back in,saying, "Get back in there. This is where you belong. I've alreadydiagrammed your life." They said, "No, no, no. This is where I wantto go . . . ."
---
Daybook is contributed by Steve King, who teaches in the English Department of Memorial University in St. John's, Newfoundland. His literary daybook began as a radio series syndicated nationally in Canada. He can be found online at todayinliterature.com.