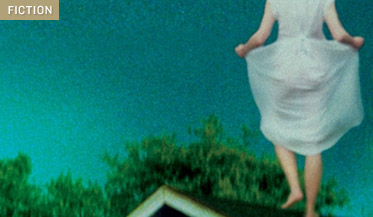 Open Sing Them Home to the flyleaf and — before you've read even a word of Stephanie Kallos's sweet and funny second novel — you find a clue. It's dedicated to her father and mother, who died within a year of each other while the book was being written, and to a friend and mentor who took his life not five months later. How do you face such loss? Exactly the answer Kallos appears to be after.

Hope Jones was the doctor's wife in a small prairie town in Nebraska in 1978 when she vanished in a monster tornado. Her body was never found. To her three children, Larken, Gaelan, and Bonnie, their mother didn't die so much as she "went up": "For most of their lives, they have been waiting for their mother to come down. To do otherwise, they believe, would be a betrayal."

Other things caught up in that tornado came down, including the family's grand piano, a sled, and, miraculously, Bonnie herself. Then a toddler, she was found where the tornado's capricious winds dropped her, high above the ground in an uprooted tree. Life went on, but the loss of their mother, and of their mother's body, defined the Jones children. Adults when the story starts in 2003, they're still struggling with Hope's mystical, almost mythical demise.

Larken, an art history professor at a university in nearby Lincoln, is deliberately overweight — fat, really — and lives a solitary life. Gaelen has parlayed his buff good looks into a job as a TV weatherman. Bonnie, who still lives in Emlyn Springs, has become the town eccentric. She roves the roads on a bicycle, collecting bits of trash — she calls them artifacts — that she carefully assembles in albums in hope of finding something of her mother's. In the manner of modern families, the siblings live apart until a birthday, a holiday, or a family tragedy brings them together.

In Sing Them Home, it's the latter. Their father, Llwellyn, goes golfing in a thunderstorm and, club raised to take a swing, is electrocuted. Larken and Gaelen head home for the funeral. In that ceremony, a three-day singing ritual, and in the regrouping that follows, Kallos's book is born.

Kallos was a theater person, an actor and teacher, before she began to write. She started with short stories good enough to get published in literary journals, then made the leap — if that's what you can call the eight years it took to write it — to Broken for You, her first novel. In that 2004 book, she tells the tale of a reclusive woman hidden away in her Seattle mansion, where she tends and talks to the vast and valuable china collection left to her by her father. Add in a deadly brain tumor, a want ad for a roommate, and a spunky and equally reclusive woman in her 30s, and you'd still have trouble predicting just how and where this whimsical novel winds up. Now, in the dense tapestry of Sing Them Home, Kallos has landed on her feet again, dodging the dreaded sophomore jinx of the second novel. She's still poking at the open wounds of abandonment, loss, and grief, and yes, there's another strong dose of magic realism (the dead can speak, a pair of lovers conjures a snowstorm), but now there's also heft and an edge of darkness.

The characters aren't particularly likable. Bonnie's a crank and, much of the time, a trial. Larken's an intellectual snob and a secretive binge eater. There's a moment early on with Larken and a peanut butter cup, which she slips into her mouth and dismantles with her tongue, that is nothing short of sexual. The fact that this bit of release happens during a meeting with a student, who is unaware, gives the scene a real creepiness. Gaelen, outwardly the most normal of the three siblings, pursues a prolific and loveless love life that would make Hugh Hefner proud.

But Kallos, who loves her people, rides to the rescue, her language making a case for their foibles, persuading us — please — to give them a chance. Here's Gaelen, unable to respond as the girl he likes undresses for him, her garments falling like snow:


There is a weightless quality to falling snow, even in its multiple forms, the various ways it can come down. Many people find it entrancing; to them snowfall is magical. Such people do not associate meteorological events with the disappearance of a parent, and so perhaps understandably, given his family history, Gaelen does not prefer snow in this down-falling, vulnerable state?

Hope's children spend their adult lives in pursuit of answers about their mother and her vanishing act, but it's the readers who learn all about her. A series of diary entries, beginning with Hope as a college girl in love with Llwellyn Jones and continuing through her courtship and marriage, reveal a crippling series of secrets and betrayals. And while the chapters about the children and the small-town life of Emlyn Springs take place in the near-present day, the writing in those sections, lyrical as it is, filled with bits of magic and whimsy, feels old-fashioned. Hope's diary entries, by contrast, are bracing and vivid, the most modern and compelling voice in the book.

Unlike many short story writers who take a shot at the long form, Kallos writes uncommonly good novels. There's the nuance and close focus of the short story, where a plot hinges on a single detail, but there's also the sweep and wide horizon of a saga. Kallos may be a bit too fond of the happy ending, less god of her universe than fairy godmother, but in this rocky moment in our uncertain world, it's hard to find fault with that.