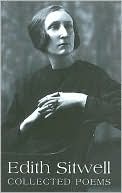 December 9: DameEdith Sitwell died on this day in 1964, and Sir Osbert Sitwell, her youngerbrother, was born earlier this week—December 6, 1892. Edith and Osbertpublished two-dozen books between them, and Sacheverell, the third and youngestof the famous siblings, published fifty more. Beyond Edith's Collected Poems, few are now in print,but the Sitwells' place in modern literary and cultural history is based asmuch on their role as patrons, and on their unusual personalities.
1922 is modern literature's annus mirabilis because of the publication of The Waste Land and Ulysses,but that is also the year of Façade,the event which more than any other is associated with "Sitwellism."The siblings premiered this evening of experimental poetry, music, andperformance in their London home, Edith declaiming her unusual poems through amodified megaphone directed through a painted curtain, accompanied by SirWilliam Walton and the English Opera Group Ensemble. The evening puzzled oramused many, and provoked some to parody, Noel Coward among the first with askit in London Calling (1923), hisfirst musical. Titled "Swiss Family Whittlebot," Coward's skitpresents the poetess Hernia Whittlebot reading several of her obscure, modernistpoems to her adoring brothers, Gob and Sago. Coward thought the joke so funny that he later published a whole bookof Poems by Hernia Whittlebot, andEdith thought them so unfunny that she refused to speak to Coward forthirty-five years. But she and her brothers groomed their profile as eccentricsand continued to publish, enduring F. R. Leavis's public jibe that they "belongedto the history of publicity rather than the history of poetry," and T. S.Eliot's private preference for the name "Shitwell."
Using her position as an authority on the subject, Edithpublished a popular book on The EnglishEccentrics. The Sitwells now appear in such collections—Karl Shaw's recent Curing Hiccups withSmall Fires, for example, where we read that the siblings successfullyescaped the family castle in Derbyshire to live in London by convincing theirfather, by way of packed bags, faked letters, and other ploys, that they wereon a prolonged world cruise. But by all accounts, Sir George Sitwell was toodetached and busy to care. His inventions include a pistol for shooting wasps,his books included The Invention of theFork and Acorns as an Article ofMedieval Diet, and his pastimes included the transformation of the cows onhis estate into moving art by having them stenciled in a blue and white Chinesewillow pattern.
---
Daybook is contributed by Steve King, who teaches in the English Department of Memorial University in St. John's, Newfoundland. His literary daybook began as a radio series syndicated nationally in Canada. He can be found online at todayinliterature.com.