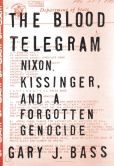 East Pakistan declared its independence from Pakistan on this day in 1971, creating the People's Republic of Bangladesh. During the ensuing nine-month Liberation War, the Pakistani army carried out large-scale atrocities, slaughtering hundreds of thousands and causing some 40 million to flee.

In The Blood Telegram: Nixon, Kissinger, and a Forgotten Genocide (2013), Gary J. Bass uses recently declassified information to conclude that American involvement in the Liberation War constitutes "one of the worst moments of moral blindness in U.S. foreign policy." Motivated by its desire to use Pakistan as a go-between in its courtship of China, the Nixon administration supplied armaments to the Pakistani army and stood by while they committed atrocities with them, even in face of outraged eyewitness accounts from Archer Blood, the U.S. consul-general in Dacca:
The onslaught would continue for months. The Dacca consulate stubbornly kept up its reporting. But, Blood later recalled, his cables were met with "a deafening silence." He was not allowed to protest to the Pakistani authorities. He ratcheted up his dispatches, sending in a blistering cable tagged "Selective Genocide," urging his bosses to speak out against the atrocities being committed by the Pakistani military. The White House staff passed this up to Kissinger, who paid no heed. Then on April 6, two weeks into the slaughter, Blood and almost his entire consulate sent in a telegram formally declaring their "strong dissent" — a total repudiation of the policy that they were there to carry out. That cable — perhaps the most radical rejection of U.S. policy ever sent by its diplomats — blasted the United States for silence in the face of atrocities, for not denouncing the quashing of democracy, for showing "moral bankruptcy" in the face of what they bluntly called genocide.
---
Daybook is contributed by Steve King, who teaches in the English Department of Memorial University in St. John's, Newfoundland. His literary daybook began as a radio series syndicated nationally in Canada. He can be found online at todayinliterature.com.