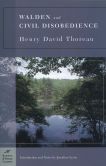 Henry David Thoreau moved into his Walden Pond cabin on this day in 1845. In Walden, Thoreau claimed that his move occurred on Independence Day only "by accident," and that others should find their own time and path to personal freedom:
One young man of my acquaintance, who has inherited some acres, told me that he thought he should live as I did, if he had the means. I would not have any one adopt my mode of living on any account; for, beside that before he has fairly learned it I may have found another for myself, I desire that there may be as many different persons in the world as possible; but I would have each one be very careful to find out and pursue his own way, and not his father's or his mother's or his neighbor's instead. The youth may build or plant or sail, only let him not be hindered from doing that which he tells me he would like to do. It is by a mathematical point only that we are wise, as the sailor or the fugitive slave keeps the polestar in his eye; but that is sufficient guidance for all our life. We may not arrive at our port within a calculable period, but we would preserve the true course.
The "fugitive slave" was more than a metaphor for Thoreau. On this day in 1854, at an Independence Day anti-slavery gathering in Framingham, Massachusetts, he delivered the speech that would later be published as "Slavery in Massachusetts." Thoreau was a lifelong abolitionist, but the speech was occasioned by the recent, nationally debated case of Anthony Burns, convicted in Boston and returned to bondage in Virginia under the provisions of the Fugitive Slave Act. The conviction and the law inspired Thoreau to one of his most ringing anti-government statements:
…I need not say what match I would touch, what system endeavor to blow up; but as I love my life, I would side with the light, and let the dark earth roll from under me…. I would remind my countrymen that they are to be men first, and Americans only at a late and convenient hour.
---
Daybook is contributed by Steve King, who teaches in the English Department of Memorial University in St. John's, Newfoundland. His literary daybook began as a radio series syndicated nationally in Canada. He can be found online at todayinliterature.com.