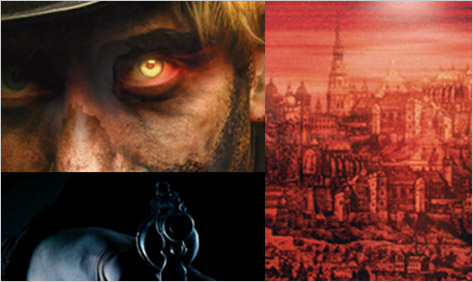 Since its inception in 2008, Underland Press has illustrated—by the small run of superior books it has so far published—the value of having a strong and individual creative vision guiding an enterprise, in place of a diffuse and lowest-common-denominator corporate consensus.
Underland is the brainchild of Victoria Blake, previously an editor for the prose-centric offerings at Dark Horse Comics. With modest capital, intelligent publicity, and a keenly refined taste, Blake has assembled a roster of first-class fantastical authors, all with an eye toward bringing the reader "macabre monsters and magic and men with nothing to lose." The fourth book in her line, Jeff VanderMeer's Finch, has perhaps garnered the most attention, due in part to an ingenious DIY booktour engineered by the author (See our review of Finch here). But the other items in Underland's catalogue also stand out as lively, arresting publications.
Underland's opening salvo, Brian Evenson's Last Days, set a tone of uncompromising experimentation and audacity. These yoked novellas chronicle the protagonist's descent into Grand Guignol farce and madness. Kline, a detective suffering from a horrible wound incurred during his investigations, is contacted by a sect that practices ritual amputation. Ostensibly, they need his detecting skills. But the end result is Kline's complicity in a slew of esoteric murders and enigmatic mutilations. Combining flavors of Borges, Ballard, and Monty Python, with echoes of The Prisoner, this transgressive novel demands to be filmed by the impossible tag team of Jim Jarmusch and Tod Browning.
Brian Evenson is a veteran writer offering a solid foundation for a line of books, but Underland's next presentation was more of a gamble: the debut novel by a young Australian writer, Will Elliott. The Pilo Family Circus takes the familiar conceit of a supernatural sideshow, as famously exemplified by such authors as Ray Bradbury and Charles Finney, and runs it through the Quentin Tarrantino grindhouse. Youthful layabout Jamie is kidnapped by insane extradimensional clowns and drafted into a cryptic enterprise more MS-13 than Ringling Brothers. Imagine Matt Ruff and Will Self collaborating—albeit with some beginner's awkwardness—and you'll have a sense of this audaciously promising novel.
Venturing abroad again for their third title, Underland chose a husband-and-wife writing team from the Netherlands, Esther and Berry Verhoef, who employ the shared nom de plume of Escober. Narrated with stylish terseness by Fisher, a young soldier suffering from the fallout of the Balkan tragedies he has witnessed, their novel, Chaos, offers globe-trotting suspense that recalls influences as diverse as Hitchcock, Westlake and Crumley. With chapter-topping epigrams from heavy-metal lyrics, the authors seem intent on taking traditional noir—femmes fatales, betrayal, scams, corruption, immorality—and dragging it kicking and screaming into the merciless light of the twenty-first century, where the surreal and absurd are always trumped by the quotidian.
After the success of their fourth novel release, VanderMeer's Finch, Underland followed up with a volume of short fiction, Real Unreal: The Best American Fantasy 3, edited by Kevin Brockmeier. It seems a cannily tendentious move, a banner proudly hoisted aloft to indicate the press's desire to blur boundaries. Brockmeier himself is an author who straddles genre and mainstream camps, and his choices for the year's outstanding stories of the fantastic illustrate the varieties of interstitial goodness being published these days. In a grand ecumenical literary carnival, David Ackert (two published stories in his CV) stands next to Stephen King, The Magazine of Fantasy and Science Fiction converses with The Kenyon Review, and dainty allegories mingle with pulpish superheroes.
Underland's bold, confident eclecticism bodes well for the press's future.