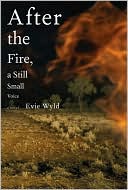 Congratulations to 29-year-old writer Evie Wyld on her winning of the John Llewellyn Rhys prize for her book After the Fire, a Still Small Voice. Her first novel, it follows a family in eastern Australia, and the long-term effects created by a legacy of war and violence.

Past winners of the award — which is for writers from UK and Commonwealth under 35 — include Margaret Drabble and Jeannette Winterson. We particularly like hearing that author — when she is not writing — is a bookseller.
Hat tip to the Granta website for the info.
-BILL TIPPER