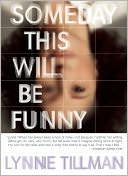 Lynne Tillman's stealthy stories exhibit a quiet, composed delicacy that conceals a titanium armature and a burning fusion reactor core. Her work reminds me of the sculptures of Charles Krafft: elegant porcelain representations of deadly hand grenades and pistols.
Tillman's medium-sized new collection is stuffed full with over a score of tales that all rapidly deliver compact but potent hits of insight, wit and emotion. Like depth charges, they only go off after they sink down into your mind, due to their equable mien. She does not believe in yelling or making a ruckus, but in slipping the knife in with deft precision and lack of obvious drama.
Tillman employs a variety of styles and voices to convey her cargo of epiphanies. In "The Substitute", she offers a stream-of-consciousness narrative, during which the female patient of a psychoanalyst disburdens herself of more than she intended. "Lunacies" is almost a prose-poem centered on Earth's symbol-heavy satellite. In a similar vein, "Love Sentence" finds its teller spiraling and spiraling around the matter of love, like a patient hound tracking a faint scent. Two stories deal mimetically with historical figures. "Give Us Some Dirt" inhabits the mind of Supreme Court Justice Clarence Thomas, while "Later" chronicles a meeting between singers Marvin Gaye and John Lennon. "Dear Ollie" is cast in epistolary form, and carries a freight of seeming autobiography. "More Sex" is a miniature tell-all memoir that derails itself into celebrity-centric psychosis. Like some outtake from Henry Miller or Jack Kerouac, "The Way We Are" thumbs its nose at establishment propriety.
All these stories succeed in imparting ripples of melancholy or awe or laughter, even amidst the wreckage of lives. Tillman's not a big partisan of despair. Her spotlight always shines on the infinitely surprising mutability of people, a species trait that continues to offer hope and a way out of our troubles. We have to assume that when Tillman is describing Katherine, the protagonist of "The Original Impulse," she is characterizing herself: "She watched people carefully for unusual, even unique gestures and expressions, and listened thoughtfully. People were amazing, their stories amazed, saddened and disgusted her…. She recognized a person as a site of relationships, never just an individual, even when cut off from friends and family."
The one exception to the universal success of these pieces seems to me to be "Madame Realism's Conscience". An overly snarky stand-up routine about political power, it becomes tendentious and boring. But that one lapse cannot undermine the cumulative impact of these tales, where common people disclose the extraordinary qualities we all harbor within.
Someday This Will Be Funny is one of the first books issuing from publisher Richard Nash's innovative new concern, Red Lemonade, a firm which emphasizes reader interactivity, environmental sustainability, multi-platform availability and a host of other twenty-first-century talking points. It is reassuring to see that the old-fashioned virtue of great writing is on their docket as well.
---

Paul Di Filippo's column The Speculator appears monthly in the Barnes & Noble Review. He is the author of several acclaimed novels and story collections, including Fractal Paisleys, Little Doors, Neutrino Drag, and Fuzzy Dice.