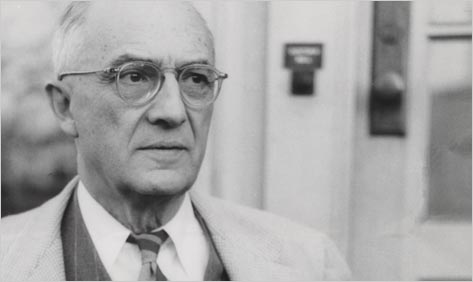 Often when readers encounter William Carlos Williams in the too-brief space allotted classroom poetry — weeks of high school English, required college reading — they're offered a spare but juicy address about plums, called "This Is Just to Say":
I have eaten

the plums

that were in

the icebox

and which

you were probably

saving

for breakfast

Forgive me

they were delicious

so sweet

and so cold
There's also "The Red Wheelbarrow," which claims:
so much depends
upon

a red wheel
barrow

glazed with rain
water

beside the white
chickens
Sometimes these glimpses are followed by a jargonish lecture on imagism or modernity. We may be granted an interesting biographical side note: As well as being a poet, Williams was a practicing doctor. Then plums, doctor, wheelbarrow, and poet pass.
It's slim treatment of a revolutionary. These Williams moments are so pared and familiar as to become best-of-Williams wallpaper, a Williams Post-It — allowing us not to see or hear the American giant. What a relief, then, to settle into Herbert Leibowitz's "Something Urgent I Have to Say to You": The Life and Works of William Carlos Williams, a trek through Williams's long career; his loves and dalliances; his delicate relationship with his era's literati; his work as a school doctor and obstetrician in working class, not-yet-suburban New Jersey.
Williams thought of himself as an "American primitive"; in this study he emerges doggedly trying to capture his "American grain" in stints of productivity between calls to deliver a tenth baby, or after jamming a tongue depressor down the throat of a resolute but dying child. Here's Williams the philanderer, the dutiful but sometimes unhappily married husband; Williams the ambivalent suburbanite and also frustrated poet; here are strata of a life that, like a Williams poem, layer and only jaggedly cohere.
Meanwhile, Leibowitz positions Williams among his fellow moderns — in his fortuitous, competitive friendship with Ezra Pound; in his dislike and envy of T. S. Eliot; in his ambivalence about New York and Paris, whose literary glitter he ducked into, then avoided to better hear his own voice. (He needed this space: In Paris, Ezra Pound called Williams "Little Bill," the "Big Bill" in question being none other than William Butler Yeats.) And after years of being rejected by both the mainstream and avant-garde — (sometimes for seeming too much of one to suit the other) — Williams emerged as an avuncular mentor to the next generation, a model for poets as diverse as Lowell, Tate, and Ginsberg.
The last big biography of Williams was Paul Mariani's — itself a tome, but one more willing to take the liberty of leaping around inside Williams's head. Leibowitz, by contrast, remains outside, dry, chronological. That's not always a bad strategy, as his deliberations pay off, and what emerges at the end of the book is not a resolved character inhabited, but a fascinating one circled. Which is not to say this biography is without its faults: Leibowitz sometimes makes much of Williams's sexuality in a way that reads tiresomely into the poems, so that every time Willams uses the word crotch (even for the branch of a tree) it gets flagged for painstaking anthropomorphizing. Leibowitz plots literary biography alongside close reading, and at times either the reading or biography suffer — occasionally both do.
But Williams triumphs as a figure of consummate interest. And this is as good a moment as any to admire his poems' revolutionary strangeness — their mysterious plainness and also their explosive ruminations about what art might be now. It's worth remembering that the fragment about the red wheelbarrow was hardly a spare standalone, but part of a highly experimental prose-studded cycle called "Spring and All," which has just been reissued in facsimile by New Directions this year.
Here's an excerpt from another poem, from the mid-twenties, called "New England":
is a condition —

of bedrooms whose electricity

is brackish or made into

T beams — They dangle them

on wire cables to the tops

of Woolworth buildings

five and ten cents worth —

There they have bolted them

into place at masculine risk —

Or a boy with a rose under

the lintel of his cap

standing to have his picture

taken …
We — in our own conditions of bedrooms — can wake up to this muscular language with its T's and W's imitating the wires sectioning the once-rural sky. Then the image fractures and shifts, and New England becomes a boy. We don't have to decide. We admire Williams newly in his now indisputable place as one of America's greatest poets, arguably greater in retrospect than his uneasy competitors, Eliot or Pound. In this telling, he's restored to his own dogged mystery — his intensity of purpose, his long hours, his vision of poems that speak in a modern American way — to and for us all.