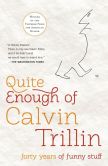 Calvin Trillin was born on December 5, 1935. The recently published Quite Enough of Calvin Trillin is a sampler of "Forty Years of Funny Stuff." The collection begins with "Chubby," a 1998 piece in which Trillin reflects that his happy childhood precluded any attempt at the memoir game:
It's common these days for memoirs of childhood to concentrate on some dark secret within the author's ostensibly happy family. It's not just common; it's pretty much mandatory. Memoir in America is an atrocity arms race. A memoir that reveals incest is trumped by one that reveals bestiality, and that, in turn, is driven from the bestseller list by one that reveals incestuous bestiality.
But Trillin has a go anyway, offering the trauma of discovering, years after the event, that Chubby the family dog was put to sleep and not, as given out by his parents, put out to pasture on a welcoming farm. The piece concludes with another, even more upsetting revelation: "The collie was not called Chubby," smirks Trillin's sister, Sukey. "The collie was called George. You were called Chubby."
---
Daybook is contributed by Steve King, who teaches in the English Department of Memorial University in St. John's, Newfoundland. His literary daybook began as a radio series syndicated nationally in Canada. He can be found online at todayinliterature.com.