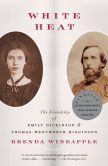 When much in the Woods as a little Girl, I was told that the Snake would bite me, that I might pick a poisonous flower, or Goblins kidnap me, but I went along and met no one but Angels, who were far shyer of me, than I could be of them, so I hav'nt that confidence in fraud which many exercise.
Emily Dickinson was born on this day in 1830. The comment above is from Dickinson's August 1862 letter to Thomas Wentworth Higginson, who became her poetic adviser and friend over her last two decades, and then her first editor after her death. Their relationship is the subject of Brenda Wineapple's White Heat, which takes its title from one of Dickinson's poems — "Dare you see a Soul at the White Heat?
 / Then crouch within the door…." But Wineapple shows that the soul-on-fire theme also recurs frequently in the poet's letters. "I thank you for the Truth — " Dickinson writes earlier in the August 1862 letter to Higginson. "I had no Monarch in my life, and cannot rule myself, and when I try to organize — my little Force explodes — and leaves me bare and charred."
---
Daybook is contributed by Steve King, who teaches in the English Department of Memorial University in St. John's, Newfoundland. His literary daybook began as a radio series syndicated nationally in Canada. He can be found online at todayinliterature.com.