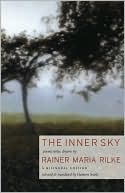 A Poem by Rainer Maria Rilke
Today's selection from the poetry books of David R. Godine, Publisher, is from Rainer Maria Rilke's The Inner Sky: Poems, Notes, Dreams, selected & translated by Damion Searls, to be published in June of this year.
Spring Songs
I. Early Spring (1924, age forty-eight)
Hardness has vanished. Suddenly solace
descends on the uncovered gray of the meadows.
Small streams change the emphasis.
Down, imprecisely, come caresses
towards the earth from the sky.
Paths go deep into the land and show it.
You unexpectedly see it grow. It
expresses itself in an empty tree.
II. Song for Helene (1899, age twenty-three)
We all need warm rains like the one that's been
flooding down the past few nights, –
this must be how heaven lays its hands
on the soft stringed instruments of our souls
so that, within them, spring can begin.
Then leave the wind
alone, with your song,
don't be scared that the wind will tear it from you:
out of your first fear comes nothing but peace
when you see how your song has taken wing.
Rainer Maria Rilke, "Spring Songs" from The Inner Sky: Poems, Notes, Dreams, translated by Damion Searls. Copyright © (2010) by Damion Searls.
Reprinted with the permission of David R. Godine, Publisher, Boston. www.godine.com