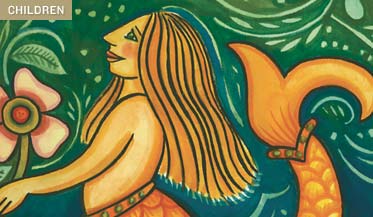 Are you the type of person who gave up on Poetry (with a capital P) after the exhausting interpretive gymnastics of English 101? Allergic, perhaps, to dudes in berets declaiming their imitations of "Howl" from the stage in back of the coffee shop? If so, I have some words of hope for you: Poetry can be fun, poetry can be silly — and, often at the same time — poetry can express emotion and states of feeling with a unique power.

In particular, poetry for children often exemplifies this special union of laughter and profundity. The esteemed poet, anthologist, and teacher Lee Bennett Hopkins wrote ?The first thing I think of when planning a collection is the child and what I want the child to reap. When it comes to poetry — pure poetry — I want them to see beauty in the world, feel emotion, compassion, to breathe deeply and utter, ?Yes, this is how it is.' "

Those revelations can come surprisingly early. I've found it's possible to jolly a two-year old out of an incipient breakdown by dramatically reciting these lines from Andrew Fusek:


I'm the no-no bird,
That's right, that's me.
I live up in
The Tantrum Tree.
I'm the no-no bird,
I won't say why
I stamp my feet
And shout and cry.?


This can be found in Here Is a Little Poem: A Very First Book of Poetry — a collection co-edited by Fusek and the esteemed poet Jane Yolen. The genius of these selections is that they reflect the developmental interests of young children. Wordplay, humor, and tongue twisting verse about big feelings, baby brothers, and ice cream are all part of the landscape, brought to life with strong imaginative illustrations by Polly Dunbar.

Poetry is also an intergenerational delight, perfect for sharing with grandparents and great-grandparents. Characters familiar to young and old make an early appearance in A. A. Milne's 1924 collection When We Were Very Young; Christopher Robin and everyone?s favorite teddy bear, Winnie-the-Pooh, are part of the timeless world that Milne created through these perfectly tuned vignettes. it includes what I would consider a child?s first choral reading -"Disobedience" rhythmically begins with ?James James / Morrison Morrison / Weatherby George Dupree / took great / Care of his Mother, / Though he was only three. / James James / Said to his Mother, / 'Mother,' he said, said he:/ 'You must never go down to the end of town / If you don?t go down with me.' " Reissued in a lovely gift edition on heavy cream colored stock, it features full-color versions of Ernest H. Shepard's stunning illustrations.

Another book that is so exquisitely beautiful that I can?t keep my hands off of it is On the Farm by David Elliot, illustrated by Holley Meade. The oversize double-page spreads display thick black lined woodblock print animals, plants and buildings awash in delicate watercolors. Elliot's compact verses neatly capture the attributes of the farm's animal residents. In "The Barn Cat, " Mice / had better / think twice.? Elliot doesn't confine himself to the standard list of barnyard creatures: "The Snake," for example, ?Coils / in the / garden / like a / spring or / the wild / and winding / melody / he / hears / but / cannot / sing.?

Imagistic beauty gives way to boisterous humor in My Dog May Be a Genius, the companion to the bestsellers Something Big Has Been Here and A Pizza the Size of the Sun by Jack Prelutsky (the Poetry Foundation?s first Children?s Poet Laureate), and humorous cartoonist James Stevenson. Prelutsky?s prolific output of exuberantly kid-friendly verse demonstrates his love of the absurd and knack for celebrating the sonic pleasure of rhyming song, wordplay and punning.

I love hearing students joyously declaim ?Rat for lunch! Rat for lunch! Yum! Delicious! Munch, munch, munch! One by one or by the bunch-Rat, oh rat, oh rat for lunch!? from A Pizza The Size of the Sun. They will be thrilled with the new creation "Song of the Lizard Lovers":


Lizard, oh lizard we love you we do
there?s no finer reptile to nibble or chew.
No toad ever tickled our taste buds like you.
Lizard oh lizard, we love you we do.


For the squeamish, "A Fox Has Caught the Chickens" provides a more cerebrally witty scenario:


A fox has caught the chickens
but the chickens fixed the fox.
That fox is skipping dinner,
for they gave him chicken pox.


More contemplative verse can be found in Imaginary Menagerie: A Book of Curious Creatures. Dragons, mermaids, centaurs and sea serpents are among the mythical inhabitants depicted by the team that brought us the award-winning Yellow Elephant: A Bright Bestiary. The verses are paired with Julie Paschkis?s luminous paintings, which draw on the cultural symbols of the countries from which the various tales come, creating an effect like an illuminated manuscript.

"Phoenix ? exemplifies the myth of rebirth, but extends the famous bird's attributes into a haunting emblem of mutability:


Rising
from the ashes of her nest, away she flies.
She is a bird that never dies.
Singer
and shape-changer,
she is a strange one:
Now a crane, now a drake, now a turtle, now a snake,
now a swallow, now a swan-
she burns and is reborn.
And then she?s gone.


Poems like these invite children in to a new way of seeing, and fly in the face of dry academic approaches. They share the sly, inventive and counterintuitive approach to poetic instruction so eloquently expressed by the American Poet Laureate Billy Collins in his "Introduction to Poetry":


I ask them to take a poem
and hold it up to the light
like a color slide

or press an ear against its hive.
I say drop a mouse into a poem
and watch him probe his way out,
or walk inside the poem's room
and feel the walls for a light switch.

But all they want to do
is tie the poem to a chair with a rope
and torture a confession out of it.
They begin beating it with a hose
to find out what it really means