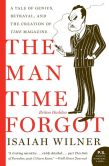 Time magazine began publication on this day in 1923. Creators Briton Hadden and Henry Luce, who had been friends and student reporters through prep school and then at Yale, had a clear and simple vision for America's first weekly news magazine: "True, we are not going out like Crusaders to propagate any great truths," wrote Luce to his father, "but we are proposing to inform people — to inform many people who would not otherwise be informed; and to inform all people in a manner in which they have never been informed before."

Time became the world's most widely read news magazine, and Luce became one of the most influential figures in modern journalism. Hadden died at age thirty-one and became, as the title of Isaiah Wilner's recent biography puts it, The Man Time Forgot. Wilner's "Tale of Genius, Betrayal and the Creation of Time Magazine" accuses Luce of a decades-long campaign to edit his friend from the official record and credits Hadden with creating the journalistic style "that would permeate the American mindset":
In order to make the news accessible to a wide audience, Hadden told the news just as he viewed it — as a grand and comic epic spectacle. He hooked readers on the news and sold them on its importance by flavoring the facts with color and detail, and by painting vivid portraits of the people who made headlines. Hadden's entertaining writing style proved so popular that it quickly spawned imitators. As the rest of the media took up Hadden's style of narrative reporting, journalists transformed themselves from mere recorders into storytellers. The burgeoning national news media acquired a grip on the American imagination and a power unprecedented in public life.
---
Daybook is contributed by Steve King, who teaches in the English Department of Memorial University in St. John's, Newfoundland. His literary daybook began as a radio series syndicated nationally in Canada. He can be found online at todayinliterature.com.