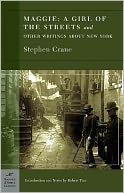 Stephen Crane was born on this day in 1871 in the New Jersey shore town of Asbury Park, named after the founder of American Methodism, Francis Asbury. Crane's parents were prominent among the Methodist devout, his mother a lecturer on temperance, his father an evangelical minister. On their list of forbiddens were most of Stephen's current or future passions: alcohol, tobacco, women, baseball, and novels. One of Reverend Crane's tracts recommended "for the guidance of all, young and old, learned and unlearned, total abstinence from novel reading, henceforth and forever."

But Reverend Crane died early, and Mrs. Crane could only note that her son, "like the wind in Scripture, bloweth where he listeth." "He could never be told, tamed, trained or trammeled," said a classmate at one of the two universities where Crane never went to class. He went instead to the red-light district or to police court, the sorts of environments that would inspire his first novel, Maggie, A Girl of the Streets, written at age nineteen. His early book of poetry was called The Black Riders, and Crane, like another Asbury Park street poet a century later, saw himself as "born to run" as well as write.

As a journalist, his favorite topics certainly required trips, often to extreme or frontier places. In the Mexican pulque bar, the drunken caballeros wear "spurs the size of rhinoceros traps"; the inscrutable Indian sitting outside in purple blanket, on green grass, against low white walls, under blue sky, seems to want "not so much to get possession of some centavos as to compose the picture."

Many descriptions of Crane's style talk of painting — he is a "colorist," an "impressionist," writing "sketches." The research of sleeping in a Bowery flophouse, staying up with streetwalkers or smoking opium, going down the mine or into the execution chamber at Sing Sing became "social realism," although there was often a brushstroke of pity for the marginalized victim or contempt for those responsible. The Red Badge of Courage was not Crane's usual investigative impressionism — like his young hero, Crane had never been to war — but the critics thought it "a photographic revelation," and the War Department thought it realistic enough to be filed among the official archives.
---
Daybook is contributed by Steve King, who teaches in the English Department of Memorial University in St. John's, Newfoundland. His literary daybook began as a radio series syndicated nationally in Canada. He can be found online at todayinliterature.com.