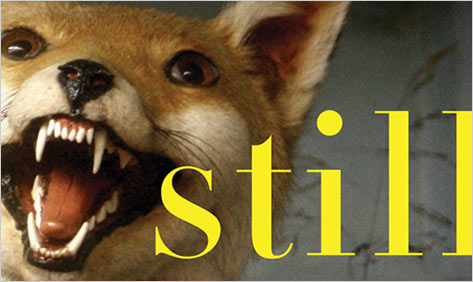 Melissa Milgrom doesn't get into taxidermy's current cachet in Still Life: Adventures in Taxidermy. Her only acknowledgment of it comes in a chapter describing the 2003 sale of Mr. Potter's Museum of Curiosities, a Victorian collection whose contents included "The Kittens' Wedding," 20 stuffed felines dressed in morning suits and gowns attending a marriage ceremony. She notes that Potter's eccentric trove might have been preserved, rather than auctioned off in pieces, had the sale occurred later, given that "taxidermy wouldn't be considered hip and trendy again for another two years." While she might not explore that current trendiness, it certainly makes her book well-timed, given that so many restaurants opening in recent years have been decorated with mounted antlers.

Still Life is in part a history of taxidermy — which Milgrom defines as "the art of taking an animal's treated skin and stretching it over an artificial form … then carefully modeling its features in a lifelike attitude" — and the author gives ample attention to its most famous innovators, including Carl Akeley, the Indiana Jones-like explorer who in the early 20th century created the dioramas in the African Hall at New York's American Museum of Natural History. She also spends time with contemporary taxidermists, observing the work of David and Bruce Schwendeman, a father and son who create mounts for museums and zoos out of their New Jersey studio; Emily Mayer, one of the rare women in the field, who casts and preserves the animals used in the installations of British artist Damien Hirst; and a team of Smithsonian taxidermists working towards the 2003 opening of the Family Hall of Mammals. What many of her disparate sources share is a yearning to have their work regarded as art rather than as an oddball preoccupation.

But as the title suggests, Still Life is also a personal account of the author's own travels within what she calls a "thriving subculture" with a "creepy reputation" (Norman Bates didn't do much to help that). Milgrom begins researching the topic because she's riveted by the combination of "the beauty of nature and the harsh reality of death." By the end of the book she has drunk the Kool-Aid. Despite fearing that she has "become too immersed in the subject and gone bonkers," she gets over her revulsion of using tools like toe probes, lip tuckers, and brain spoons and spends six months in the Schwendemans' smelly studio stuffing a squirrel that the octogenarian David drowned for her.

This reviewer found her vivid description of that process fascinating — and revolting (though I still rooted for Milgrom when she anxiously entered her mount in the novice division of the 2005 World Taxidermy Championships). But by the end of the book I found myself wondering why taxidermy has come back into fashion. It somehow makes sense — we now have celebrity butchers, after all — but I wish Milgrom, who went from journalistic observer to bona fide participant, had more to say on the topic. Her perspective would have breathed even more life into Still Life.