True stories of hopes, dreams, and jump shots.
---
By Rick Telander
Telander spent two summers in the playgrounds of 1970s Brooklyn living and breathing the street-ball life with down-on-their-luck teenagers who dreamed to escape the everyday world and find joy and solace through the pounding rhythms of hoops. His care for their stories is matched by their infectious love for the game, and the playground's almost magical ability to bring a community together in hard times.
---
Hoops Nation:
A Guide to America's Best Pickup Basketball
By Chris Ballard
Think you've got game? Go ahead and give it a shot. Ballard lays out the best places to find a pickup game across America. Ballard and his pals drove 31,000 miles over seven months to dig up the dirt on everything from where the pros play to which courts are the most scenic.
---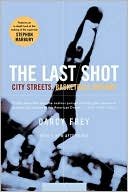 The Last Shot:
City Streets, Basketball Dreams
By Darcy Frey
Frey's heartbreaking tale follows four high schoolers from the Brooklyn projects who aim to be NBA stars. From the sleazy side of college recruiters and sneaker companies to the skullduggery of some high school coaches, this classic work of reporting shines a light on the cherished hopes of young players—and the implacable realities faced by those attempting to escape ghetto life via basketball.
---
By Jim Carroll
Carroll's classic coming-of-age memoir, originally excerpted in The Paris Review, tells the story of a teenage life that centered on prep-school basketball and a growing addiction to heroin that had him hustling and stealing on the streets of 1960s New York. His stories of a double life, fuelled by a visionary streak, lend every sort of game the young Carroll plays a terrible urgency.
---
The City Game:
Basketball from the Garden to the Playgrounds
By Pete Axthelm
Two parallel worlds: the 1969-70 season of the New York Knicks, which ended with an NBA championship, and life on the rough asphalt of Harlem and Bed-Stuy basketball courts. Pete Axhelm introduces the marvelous characters he encounters in both—including Earl "the Goat" Manigault and Herman "the Helicopter" Knowings—and paints a dramatic, often inspiring picture of New York as seen from the court.