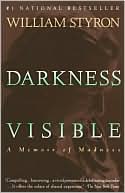 William Styron was born on this day in 1925. Styron's first novel was the prizewinning Lie Down in Darkness (1951), a story about a depressive and suicidal woman. His last book was the acclaimed memoir Darkness Visible (1990), about his own slide into depression and near suicide. The following passage comes near the end of the memoir, just after Styron's description of how he had finally resolved to kill himself, going so far as to rewrite his will and struggle with a suicide note. At this point, Styron recalls, he was sitting alone late at night staring at a movie and mulling over his possible methods; then, from the movie, came Brahms's Alto Rhapsody:
This sound, which like all music — indeed, like all pleasure — I had been numbly unresponsive to for months, pierced my heart like a dagger, and in a flood of swift recollection I thought of all the joys the house had known: the children who had rushed through its rooms, the festivals, the love and work, the honestly earned slumber, the voices and the nimble commotion, the perennial tribe of cats and dogs and birds…. All this I realized was more than I could ever abandon, even as what I had set out so deliberately to do was more than I could inflict on those memories, and upon those, so close to me, with whom the memories were bound. And just as powerfully I realized I could not commit this desecration on myself.
In her memoir Reading My Father (2011), Alexandra Styron writes that her father's book "dissuaded legions of would-be suicides" and, a decade after the award-winning Sophie's Choice, "gave him an unlikely second act as the public face of unipolar depression." She also makes clear that Styron was a lifelong depressive, his "fragile equilibrium" at risk both before and after his near-suicidal breakdown in the 1980s. Often, the family was put at risk also:
At times querulous and taciturn, cutting and remote, melancholy when he was sober and rageful when in his cups, he inspired fear and loathing in us a good deal more often than it feels comfortable to admit.
But Styron lived into his eighties, and the family learned to accommodate their "lion in winter." Alexandra's book is ultimately affirming, as signaled by its prefatory lines taken from Adrienne Rich's poem "Diving into the Wreck":
I came to explore the wreck.
The words are purposes.
The words are maps.
I came to see the damage that was done
and the treasures that prevail.
---
Daybook is contributed by Steve King, who teaches in the English Department of Memorial University in St. John's, Newfoundland. His literary daybook began as a radio series syndicated nationally in Canada. He can be found online at todayinliterature.com.