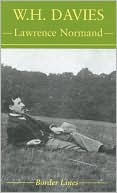 The Welsh hobo-poet William H. Davies was born on this day in 1871. Davies was very popular in turn-of-the-century England, especially after being praised by G. B. Shaw as "a genuine innocent" who wrote with "a freedom from literary vulgarity which was like a draught of clear water in a desert." This comment comes from Shaw's introduction to The Autobiography of a Super-Tramp, Davies account of his six hobo years in North America. He lost a leg while attempting to hop a train to the Klondike Gold Rush, but his book paints an alluring portrait of tramp life. One of the poems Davies includes is "A Drinking Song," which lifts a glass to the road in the Omar Khayyam spirit:
A Bee goes mumbling homeward pleased,

He has not slaved away his hours;

He's drunken with a thousand healths

Of love and kind regard for flowers.

Pour out the wine,

His joy be mine….
As a teetotaler, Shaw could not endorse the drinking, but he clearly supported the social criticism implicit in the tramp's drop-out lifestyle, and clearly enjoyed couching his endorsement of Davies in a mock-disclaimer:
I hasten to protest at the outset that I have no personal knowledge of the incorrigible Super-tramp who wrote this amazing book. If he is to be encouraged and approved, then British morality is a mockery, British respectability an imposture, and British industry a vice. Perhaps they are: I have always kept an open mind on the subject….
Shaw aside, it was the turn-of-the-century social and economic conditions which fueled the popularity of Davies and other tramp-writing. The following is from the opening paragraph of "Road-kids and Gay-Cats," one of the chapters in Jack London's autobiographical tramp book, The Road, published just a year before Autobiography of a Super-tramp:
I became a tramp—well, because of the life that was in me, of the wanderlust in my blood that would not let me rest. Sociology was merely incidental; it came afterward, in the same manner that a wet skin follows a ducking. I went on "The Road" because I couldn't keep away from it; because I hadn't the price of the railroad fare in my jeans; because I was so made that I couldn't work all my life on "one same shift"; because—well, just because it was easier to than not to.
---
Daybook is contributed by Steve King, who teaches in the English Department of Memorial University in St. John's, Newfoundland. His literary daybook began as a radio series syndicated nationally in Canada. He can be found online at todayinliterature.com.