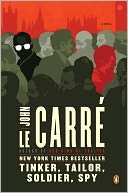 John le Carré (David Cornwell) turns eighty today. Whenever asked to provide biographical information, le Carré is notoriously uncooperative, on principle: "A good writer is an expert on nothing but himself. And on that subject, if he is wise, he holds his tongue." But in a speech delivered in 2010, le Carré was more forthcoming, spotlighting a number of biographical moments in his twenty novels and detailing the highlights of his brief career in espionage — scouting for Guy Burgess and Donald Maclean on an Austrian train, filing an embassy report from Germany on the evening the Russians put up "Checkpoint Charlie" in Berlin. In the excerpt below, le Carré recalls his unsuccessful attempt to write a novel without George Smiley, the signature character who had appeared in four of his first six books and insisted upon a role in his seventh, Tinker, Tailor, Soldier, Spy:
I wanted to write a story about how a secret service could be turned inside out to the point where it was operating against itself. But how to tell it? The complications seemed insoluble. Above all, how to tell it without George Smiley, because by then, he and I had had a serious falling out. My readers might still fancy him, but I was sick of him. When you're a forty-year-old writer, as I was, and having a Force 12 mid-life crisis, there's not a lot of incentive to re-enter the over-familiar soul of a man too old even to be your father, who has a tart for a wife, and wipes his spectacles on the fat end of his tie.

Or so I reasoned.

For six months I flogged away, and every time Smiley knocked at my door, I refused to let him in. Until one day I took the entire manuscript — boxes of it — up to the headland of the Cornish cliff where I was living and put a match to it. My wife told me later she had a copy in the office, but that just spoils a good story. So obviously, all I could do after burning the manuscript was swallow my pride and open the door to Smiley after all. No contest. He had won.
---
Daybook is contributed by Steve King, who teaches in the English Department of Memorial University in St. John's, Newfoundland. His literary daybook began as a radio series syndicated nationally in Canada. He can be found online at todayinliterature.com.