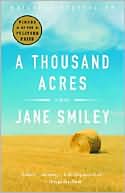 Jane Smiley was born on this day in 1949. In the two decades between A Thousand Acres, Smiley's Pulitzer-winner, and Private Life, Smiley has published across almost every genre and on any subject — literary criticism, political commentary, children's literature, biography, about "farming, horse training, child-rearing, impulse buying, getting dressed, Barbie, marriage, and many other topics" (from her website biography). She is uncontainable even when writing books about other people's books, her 13 Ways of Looking at the Novel (2005) urging readers to read as they might try on a "trunk full of fabric samples or a box of costume jewelry":
Certain books on the list really were revelations to me. I loved them in every way and they were books that I hadn't known of before. One of them was The Expedition of Humphry Clinker by Tobias Smollett, which was a great favorite of Charles Dickens. Another was Justine by the Marquis de Sade. It's so much more interesting than you think it's going to be. Yes, it's pornographic but it's also a political treatise. It's fascinating politically; it's fascinating artistically. I really enjoyed it, though I was shocked by it. And I thought The Once and Future King by T.H. White was a wonderful, wonderful book that ought to be revived.
Pushed in a recent interview to pin down her own style, Smiley said that she always intends to write "soberly," but "somehow after Moo I lost my really deep investment in sobriety as a literary tone." So maybe she's a comic writer?
The comic part comes in my desire, for one thing, for the characters to connect with one another rather than to feel isolated from one another. And also in my pleasure in absurdity and in a good joke. I think a lot of things are hilariously funny, and that's kind of the way I live my life. And I also believe that it's only possible to live if you can detach yourself and detach your sort of sense of what's going on a little bit and take a kind of observational position on everything. "Is my marriage breaking down?" "Well, let me watch that." "Is the country falling apart?" "Well, let's observe it and see what we can learn from it."
---
Daybook is contributed by Steve King, who teaches in the English Department of Memorial University in St. John's, Newfoundland. His literary daybook began as a radio series syndicated nationally in Canada. He can be found online at todayinliterature.com.