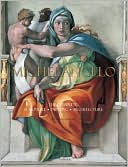 March 6: Michelangelo was born on this day in 1475. One of the most famous poetic tributes to Michelangelo comes in W. B. Yeats's "Under Ben Bulben," in which the poets of Ireland are urged to follow the highest examples of art:
Michael Angelo left a proof

On the Sistine Chapel roof,

Where but half-awakened Adam

Can disturb globe-trotting Madam

Till her bowels are in heat,

Proof that there's a purpose set

Before the secret working mind:

Profane perfection of mankind.
But Michelangelo was also a poet, and his "When the Author Was Painting the Vault of the Sistine Chapel" tells more of the agony than the ecstasy of artistic creation. The poem was included in a letter Michelangelo sent to a friend during the early stages of his work on the Chapel. Translator John Frederick Nims (The Complete Poems of Michelangelo, University of Chicago Press, 1998) says that Michelangelo included in the margin a companion self-portrait — a drawing of "a strained figure with a bent back painting a ghostly shape on the ceiling":
A goiter it seems I got from this backward craning

like the cats get there in Lombardy, or wherever

— bad water, they say, from lapping their fetid river.

My belly, tugged under my chin, 's all out of whack.

Beard points like a finger at heaven. Near the back

of my neck, skull scrapes where a hunchback's lump would be.

I'm pigeon-breasted, a harpy! Face dribbled — see? —

like a Byzantine floor, mosaic. From all this straining

my guts and my hambones tangle, pretty near.

Thank God I can swivel my butt about for ballast.

Feet are out of sight; they just scuffle around, erratic.

Up front my hide's tight elastic; in the rear

it's slack and droopy, except where crimps have callused.

I'm bent like a bow, half-round, type Asiatic….
---
Daybook is contributed by Steve King, who teaches in the English Department of Memorial University in St. John's, Newfoundland. His literary daybook began as a radio series syndicated nationally in Canada. He can be found online at todayinliterature.com.