A treasure trove of good reading from the author's shelves.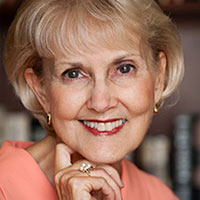 Susan Vreeland's novels often explore the relationship between art and fiction, most notably in Girl in Hyacinth Blue. Her most recent book, Clara and Mr. Tiffany, follows the designer of Tiffany's iconic leaded-glass lamps as she is torn between professional ambition and a desire for love and companionship. When we asked for her favorite reading, Vreeland chose a trio of novels, including a masterpiece of American fiction and two works that demonstrate how established classics can yeild exciting new narrative possibilties.
---
By Harper Lee
"Harper Lee's classic and timeless plea for tolerance gives us hope that communities racked by ignorance and pretension can experience moments of grace. In this tenderly rendered Southern town in the 1930s, the lovable characters I want to throw my arms around, the honorable ones I want to emulate, and the despicable ones I want to thrash reveal aspects of America we need to remember. In a crisis of conscience in which Atticus Finch, the father/sage/attorney, defends an innocent black man wrongly accused of raping a white woman, the veil of innocence is ripped away from childhood.
"A parallel theme is developed about the recluse Arthur Radley, "Boo." Atticus's daughter Scout shows that she has learned from her father's example the importance of caring in a profound and appropriate manner for those different from ourselves. To my way of thinking, this little girl shows us the redemptive grace of which we are all capable."
---
By Sena Jeter Naslund
"A whale of a tale delivered in wise doses of yearning, bravery, grisly necessity, spiritual searching, and strong cords of human connection and pulsing emotion. I admire Naslund's ability to weave soulful insights into an adventurous, tragic, and romantic narrative taking place before, alongside, and after Moby-Dick. Una's capacity for kindness, depth, and love on many levels makes her a completely admirable character despite what circumstances force her to do. Sensitive and lyrical, Ahab's Wife was wholly compelling for me."
---
By Michael Cunningham
"Having been fascinated by the interiority of Virginia Woolf's stream of consciousness delivery of story in Mrs. Dalloway, I was equally fascinated by the complexity of Michael Cunningham's three characters related to each other in entirely original ways, and rendered in three different time periods. All three are haunted by events and unachievable yearnings, and are entirely sympathetic. I appreciate how Cunningham illustrated the deep and lasting effect of reading a fine work of literature. Haunting and unusual. Cunningham and Naslund both show that the territory surrounding great Western literature can be mined for new treasure."