Love Rocks is a biweekly look at new self-published romance titles from the community of writers at Rock*ItReads.
The transition from summer to fall is one I cherish. Gone are the heat, the constant grind of air conditioning, and the mosquitoes. We can look forward to cooler days, crisp evenings, and leaves that begin to change—the perfect weather for curling up with my Nook.
As a reader, I love stumbling upon a new author whose books I enjoy. I especially love it when that author comes with not just one or two titles, but a big, affordable backlist that can keep me immersed for weeks.
Alice Duncan fits that description. An author of historical romance and cozy mysteries and historical fiction set during the 1920s, she has 43 titles currently available for Nook. Most are published under her real name, Alice Duncan, while the others are published under two pen names — Rachel Wilson and Emma Craig.
Originally published by a host of houses including Berkley, Dorchester, Dell, Harper, Signet, Kensington, and Five Star, Duncan has turned to self-publishing because it gives her something she's never had before — control.
"I appreciate that," she says. "For years and years and years, authors were the last on the feeding chain, and so I like to know I have control over what's happening to my books."
Reviewed regularly in Kirkus, Booklist and Publishers Weekly, Duncan is known for her warm narrative voice, her irrepressible humor, and a few zany and paranormal touches that may or may not be the result of that fact that she lives in Roswell, N.M.
There's no way to write about all 43 novels in this space, so I'll highlight just a few.
Duncan's early novels under her own name and under the pen names Emma Craig and Rachel Wilson are unhurried historical romances, some of which feature paranormal elements.
One of her most popular titles as Emma Craig is A Gentle Magic, a historical romance with a touch of the paranormal and part of her Land of Enchantment series. The story takes us back to November 1870 and is set in the New Mexico Territory. Cody O'Fannin is riding across the frost-bitten prairie with his cousin Arnold, when he hears a scream. Thinking the sound is a cougar, the two men ride toward the sound, half hoping to find trouble. Instead, what they discover is a woman about to give birth alone. What's a cowboy to do but help,— even if it means sacrificing his very last clean bandana.
Abandoned by her husband, Melissa Wilmeth finds herself and her newborn daughter under Cody's care as she recovers. Howard, the no-count man who deserted her, reappears, making excuses for himself, eager to reclaim her and the baby. But Melissa knows he's not telling the truth and demands a divorce.
Add to this the mysterious McMurdo, who knows Melissa's name and has a room prepared for her before Cody arrives at his door and who seems to generate a golden shimmer when he touches Melissa and her baby, and you have the makings for a charming story about love and magic.
Fans of cozy mysteries will love Duncan's Mercy Allcutt books. Mercy, a Boston blueblood, takes a job working for an ex-cop turned PI so that she can gain the experience and inspiration to write mystery novels. She finds herself amid the speakeasies, opium dens, and glitter of 1926 Hollywood. In Mercy, Duncan has taken the dumb blonde out of the noir detective story, given her spunk, brains, and class and set her loose among the stars, creating what Kirkus reviews called a "period piece reminiscent of old Hollywood." The titles include Lost Among the Angels, Angel's Flight, Fallen Angels and Angels of Mercy.
Duncan clearly has a knack for writing early 20th-century America, and she runs with it in her Spirits series, featuring Daisy Gumm Majesty, who supports herself and her husband, Billy, a wounded veteran of World War I, by posing as a medium/spiritualist and conning the wealthy residents of early 1920s Pasadena, Calif. Daisy's character has been compared to Stephanie Plum, no doubt in part due to her ability to get herself into difficult situations. Full of humor, but written with depth, they bring readers back to a complicated and yet somehow simpler time.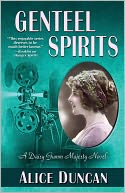 The series includes (in order): Strong Spirits, Fine Spirits, High Spirits, Hungry Spirits, Genteel Spirits, and Ancient Spirits.
For more about Alice Duncan, visit her website at www.aliceduncan.net.
In the meantime, enjoy the cooler weather, a cup of hot apple cider, and a sweet and cozy ebook.
---
Pamela Clare began her writing career as a columnist and investigative reporter and is a recipient of numerous national awards, including the National Journalism Award for Public Service. She writes sensual historical romance and gritty romantic suspense. Her next historical romance, Defiant, will be out on July 3. Learn more about her at www.pamelaclare.com.