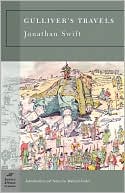 Jonathan Swift's Gulliver's Travels was published on this day in 1726, selling out within the week and provoking an enduring debate. Swift clearly relished the hoax aspect of his book, taking pains (under a pseudonym) to give his hero a genealogy and history, as well as a legendary reputation for veracity. Swift's chuckling pretense kept up through the publication of subsequent editions, Gulliver himself now going on record to quibble over misprinted facts, or wrist-slap those "so bold as to think my book of travels a mere fiction out of mine own brain."

Even defenders of Swift's satire regretted how vigorously he had realized his desire "to vex the world." For many, the most offensive section of the book was the last, in which Gulliver expressed his admiration for the rational and peace-loving Houyhnhnm horses, and his contempt for the all-too-human — and English — Yahoos. The narrative concludes with its protagonist returned home, doing his best to hold his nose in company of his family and countrymen:
I began last week to permit my wife to sit at dinner with me, at the farthest end of a long table; and to answer (but with the utmost brevity) the few questions I asked her. Yet, the smell of a Yahoo continuing very offensive, I always keep my nose well stopped with rue, lavender, or tobacco leaves. And, although it be hard for a man late in life to remove old habits, I am not altogether out of hopes, in some time, to suffer a neighbour Yahoo in my company, without the apprehensions I am yet under of his teeth or his claws.

My reconcilement to the Yahoo kind in general might not be so difficult, if they would be content with those vices and follies only which nature has entitled them to. I am not in the least provoked at the sight of a lawyer, a pickpocket, a colonel, a fool, a lord, a gamester, a politician, a whoremonger, a physician, an evidence, a suborner, an attorney, a traitor, or the like; this is all according to the due course of things: but when I behold a lump of deformity and diseases, both in body and mind, smitten with pride, it immediately breaks all the measures of my patience; neither shall I be ever able to comprehend how such an animal, and such a vice, could tally together.… I here entreat those who have any tincture of this absurd vice, that they will not presume to come in my sight.
---
Daybook is contributed by Steve King, who teaches in the English Department of Memorial University in St. John's, Newfoundland. His literary daybook began as a radio series syndicated nationally in Canada. He can be found online at todayinliterature.com.