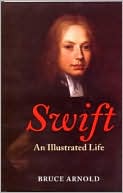 March 17: Like St. Patrick, who was first taken to Ireland from Britain as a slave, Jonathan Swift was a reluctant Irishman. Because Swift had made clear to the Church authorities his preference for a London posting, the news of his promotion to the Deanship of Dublin's St. Patrick's Cathedral caused some to doubt his commitment, or even his Christianity. Among the most vocal (and one ambitious of the Deanship himself) was the Reverend Jonathan Smedley, who reacted to Swift's appointment by penning a poetic attack and nailing it to the Cathedral door:
…This place he got by wit and rhyme,

And many ways most odd,

And might a Bishop be in time,

Did he believe in God.

Look down, St. Patrick, look, we pray,

On thine own church and steeple;

Convert thy Dean on this great day,

Or else God help the people.

And now, whene'er his Deanship dies,

Upon his stone be graven,

A man of God here buried lies,

Who never thought of heaven..
Those who took on Swift in such contests soon or eventually found themselves overmatched: one of Swift's poetic responses begins, "Dear Smed, I read thy brilliant lines / Where wit in all its glory shines…"; another begins, "The Very Reverend Dean Smedley, / Of Dullness, Pride, Conceit a medley…." Such battles, engaging a wide range of combatants and issues, continued almost throughout Swift's three decades as Dean. His housekeeper-nurse reports that on his last coherent St. Patrick's Day she observed him rocking back and forth in his chair, repeating "I am what I am, I am what I am…."
Perhaps Samuel Johnson had Swift and Smedley in mind with the following, reported by Boswell. When an Irish acquaintance told Johnson that he would like to invite him to Ireland, but was afraid that Johnson would be even more uncomplimentary towards the Irish than he was towards the Scots, Johnson protested:
Sir, you have no reason to be afraid of me. The Irish are not in a conspiracy to cheat the world by false representations of the merits of their countrymen. No, Sir; the Irish are a fair people — they never speak well of one another.
---
Daybook is contributed by Steve King, who teaches in the English Department of Memorial University in St. John's, Newfoundland. His literary daybook began as a radio series syndicated nationally in Canada. He can be found online at todayinliterature.com.