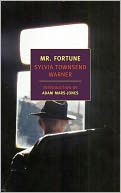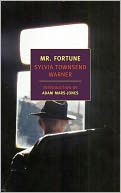 The British poet-novelist Sylvia Townsend Warner was born on this day in 1893. Her once-popular novels have made a modest comeback in the last decade, with the NYRB Classics series introducing her as "one of the indispensable mavericks of twentieth-century literature" and scholars placing her in the forefront of an "alternative modernist tradition" of subversive "crosswriting" (Gary Wachman in Lesbian Nation). Such labels can't capture Warner's wit and playfulness, though even in Scenes of Childhood, her enjoyable memoir, it is hard not to notice sentences that seem the wind-up to delivering a subversive strike:
Long, long ago, when there was no czar in Russia, and scarcely an automobile or a divorced person in Mayfair, and when the throne of England was embellished not only by a beautiful queen but by several beautiful mistresses, too, and when rock gardens were still a rarity, and my mother's greatest ambition was to have a black velvet dress with white lace on it, Miss Viner would come to tea.
The latest of Warner's novels to be reissued is Mr. Fortune's Maggot, described by biographer Claire Harman as a typically "appealing blend of cleverness, oddity and pathos." The oddness of the story is inspired by the secondary meaning of "maggot," defined in the Oxford English Dictionary as "a whimsical or perverse fancy; a crochet." Mr. Fortune's whimsy, and a fortuitous inheritance, leads him first to give up his bank job for the ministry and then, ignoring his archdeacon, to believe himself called to the South Seas island of Fanua:
"I must warn you, Fortune, you are not likely to make many converts in Fanua."
"What, are they cannibals?"
"No, no! But they are like children, always singing and dancing, and of course immoral. But all the natives are like that, I believe I have told you that the Raratongan language has no words for chastity or gratitude?"
"Yes, I believe that you did."
When Mr. Fortune converts but one islander, and him only nominally, the maggot of whimsy turns:
For man's will is a demon that will not let him be. It leads him to the edge of a clear pool; and while he sits admiring it, with his soul suspended over it like a green branch and dwelling in its own reflection, will stretches out his hand and closes his fingers upon a stone — a stone to throw into it.
---
Daybook is contributed by Steve King, who teaches in the English Department of Memorial University in St. John's, Newfoundland. His literary daybook began as a radio series syndicated nationally in Canada. He can be found online at todayinliterature.com.