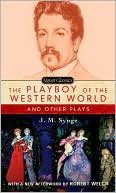 On this day in 1904 Dublin'sAbbey Theatre opened, premiering one-act plays by W. B. Yeats and Lady Gregory,both of them Abby founders. Growing outof the general Irish Literary Revival of the time, the Abbey quickly rose tointernational fame for both the quality of its productions and thecontroversies which often surrounded them. Perhaps the most famous example ofsuch clashes is that which consumed the 1907 premiere of The Playboy of the Western World by J. M. Synge, another of theAbbey's founders.
A number of Synge's plays take a critical or at leasthumorous look at the farming and fishing villages of Ireland's western isles. In Playboy, young Christy Mahon tells thetall tale of having heroically done-in his father, whereupon the excitement-starvedvillage girls, those who go "winter and summer with nothing worthwhile toconfess at all," line up to see him:
SARA. And asking your pardon, is it you's the man killed hisfather?

CHRISTY. I am, God help me!

SARA. Then my thousand welcomes to you, and I've run up witha brace of duck's eggs for your food today. Pegeen's ducks is no use, but theseare the real rich sort. Hold out your hand and you'll see it's no lie I'mtelling you.

CHRISTY. They're a great and weighty size.

SUSAN. And I run up with a pat of butter, for it'd be a poorthing to have you eating your spuds dry, and you after running a great waysince you did destroy your da.

CHRISTY. Thank you kindly.

HONOR. And I brought you a little cut of cake, for youshould have a thin stomach on you, and you that length walking the world.

NELLY. And I brought you a little laying pullet — boiled andall she is — was crushed at the fall of night by the curate's car. Feel the fatof that breast, Mister.

CHRISTY. It's bursting, surely.
When Christy later imagines "a drift of chosen females,standing in their shifts itself, maybe, from this place to the eastern world,"a riot broke out. The next day's reviews decried the play's "unmitigated,protracted libel upon Irish peasant men and, worse still, upon Irishgirlhood," and ever-increasing numbers of police were required for theremainder of the Playboy run.
---
Daybook is contributed by Steve King, who teachesin the English Department of Memorial University in St. John's,Newfoundland. His literary daybook began as a radio series syndicatednationally in Canada. He can be found online at todayinliterature.com.