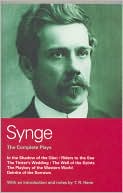 John Millington Synge's one-act play The Shadow of the Glen (later renamed In the Shadow of the Glen) premiered on this day in 1903 in Dublin. This was Synge's first professional production, the beginning of his short—he died in 1909 of cancer—and controversial career. The outrage over Synge's portrait of rural Irish life in Shadow of the Glen was topped the next year by the outrage over his attitude to God and Irish nationalism in Riders to the Sea; the riots over The Playboy of the Western World came three years after that.

Synge got his understanding of rural Ireland from summers spent in the Aran Isles and his walkabouts in some of the country's remotest regions. His experiences from these trips were published in the newspapers of the day, and collected afterward in book form. In Travels in Wicklow, West Kerry and Connemara (1910), Synge describes his visit to Great Blasket Island, where he was hosted, as usual, by one of the cottage families—sleeping in a bedroom with the husband and his twenty-year-old son, sharing a pre-breakfast glass of whiskey, washing up in the bowl used to make the morning loaf. After breakfast, he showed some photos of his European travels to his hostess and some neighbors who had gathered. One of the photos was of the Luxembourg Gardens in Paris, which had many statues in the background: "Look at that," whispered one man to another in Irish," in those countries they do have naked people standing about in their skins." In the afternoon, Synge took a walk in the coastal mountains, "the weather gloomy and wild…something nearly appalling in the loneliness of the place." After he came back, soaked to the skin, the neighborhood children danced a reel in his honor:
They tried to get the little girls to dance a reel together, but the smallest of them went and hid her head in the skirts of the little hostess. In the end two of the little girls danced with two of those who were grownup, to the lilting of one of them. The little hostess sat at the fire while they danced, plucking and drawing a cormorant for the men's dinner, and calling out to the girls when they lost the step of the dance.
---
Daybook is contributed by Steve King, who teaches in the English Department of Memorial University in St. John's, Newfoundland. His literary daybook began as a radio series syndicated nationally in Canada. He can be found online at todayinliterature.com.