Post Tagged with: "EXCERPT"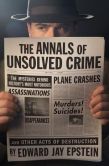 I became interested in spies after I met James Jesus Angleton, the legendary head of CIA counterintelligence in 1976. We met in Kensington Nursey outside of Washington DC. Orchids were, as I was to learn, Angleton's living metaphor for deception. I also learned from Angleton that intelligence services have been known to engage in what he termed "surreptitiously-assisted deaths."
Edward Jay Epstein on The Annals of Unsolved Crime.