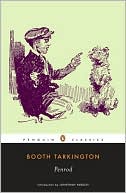 Booth Tarkington was born on this day in 1869. Tarkington published over fifty books and plays (a great many of them also filmed) in a career that spanned the first half of the twentieth century. Though he was once one of America's most popular and beloved writers, his work is now almost totally forgotten—for the most part, "deservedly forgotten," says Jonathan Yardley. Yardley's comment comes in his Introduction to the 2007 Penguin Classics edition of Penrod, where he argues that Tarkington's comic coming-of-age books—Penrod (1914), Penrod and Sam (1916), and Seventeen (1916)—are his best, still possessing "power to amuse and delight."

The first book begins with the twelve-year-old Penrod in combat with his fate: to be Child Sir Lancelot in Mrs. Lora Rewbush's production of "The Children's Pageant of the Table Round," opening that afternoon at the Women's Arts and Guild Hall in aid of the Colored Infants' Betterment Society. For this important role, Penrod is outfitted by his entire family—the bodice of one of his mother's old, frilly dresses above, his sister's stockings below, and worst of all in the middle:
The area thus costumed ceased at the waist, leaving a Jaeger-like and unmedieval gap thence to the tops of the stockings. The inventive genius of woman triumphantly bridged it, but in a manner which imposes upon history almost insuperable delicacies of narration. Penrod's father was an old-fashioned man: the twentieth century had failed to shake his faith in red flannel for cold weather; and it was while Mrs. Schofield was putting away her husband's winter underwear that she perceived how hopelessly one of the elder specimens had dwindled; and simultaneously she received the inspiration which resulted in a pair of trunks for the Child Sir Lancelot, and added an earnest bit of color, as well as a genuine touch of the Middle Ages, to his costume. Reversed, fore to aft, with the greater part of the legs cut off, and strips of silver braid covering the seams, this garment, she felt, was not traceable to its original source.
---
Daybook is contributed by Steve King, who teaches in the English Department of Memorial University in St. John's, Newfoundland. His literary daybook began as a radio series syndicated nationally in Canada. He can be found online at todayinliterature.com.