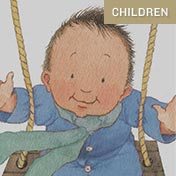 There was one little baby, who was born far away.
And another who was born on the very next day.
And both of these babies, as everyone knows,
had ten little fingers and ten little toes.

Two internationally acclaimed figures — Australian writer Mem Fox and British illustrator Helen Oxenbury — have collaborated on a book that is sure to become an instant classic. The topic appears so obvious, one would think that it had been done before many times over — but no. When reading it aloud again and again, as books for the little ones must be, not only does one not get tired of the words but also finds joy anew. Like a great rock song, the rhymes become embedded in the brain, and one finds oneself reciting them at odd moments — perhaps standing in a grocery line entertaining a baby strapped to a cart, ?and this little baby as every one knows?" Oxenbury has created a diverse cast of sweet, round-faced, pudgy-limbed toddlers from around the world who populate the oversize white pages as Fox?s rhyming words flow effortlessly. A master watercolorist, Oxenbury plays with light and dark, composition and line, down to the finer details of a stickily snotty baby who suffers from ?sneezes and chills? — and doesn't slight the texture of his velvety soft green blankie. The story could go on forever as we would never run out of babies with fingers and toes, however Fox cleverly finishes with one little baby — held this time by a doting stand-in for every mother — who (as everyone knows) has ten little fingers and ten little toes, ?and three little kisses on the end of its nose.?