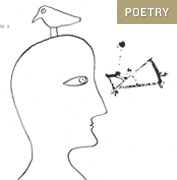 Charles Simic is perhaps the greatest living chronicler of mankind?s depravity. Yet, he can turn even the worst of times into the best of reading experiences. In his 18th collection of poetry, That Little Something, the current U.S. poet laureate focuses on "mouthwatering dishes of new evils" in our post-9/11 world. He does so with language that unspools images from fables, horror movies, headlines, childhood nightmares, and CIA torture handbooks. In "Those Who Clean After," it?s hard not to think of Abu Ghraib when Simic writes, "Evil things are being done in our name. / Someone scrubs the blood, / As we look away, / Getting the cell ready for another day." Another poem, "Dance of the Macabre Mice," opens with this stanza:


The president smiles to himself; he loves war
And another one is coming soon.
Each day we can feel the merriment mount
In government offices and TV studios
As our bombers fly off to distant countries.


Simic?s poetry is clean, brutal, and accessible to even the most verse-phobic members of our population. Years from now, survivors of whatever apocalypse we?re headed toward will be reading Simic for clues to how we destroyed ourselves.