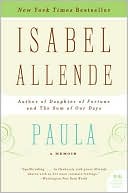 Isabel Allende was born on this day in 1942. Allende says that the kick-start for her writing career came in 1972 when, a year before his death, Pablo Neruda invited the thirty-year-old journalist to interview him, or so she thought:
"Interview me? I'd never put myself through that," he laughed. "My dear child, you must be the worst journalist in the country. You are incapable of being objective, you place yourself at the center of everything you do, I suspect you're not beyond fibbing, and when you don't have news, you invent it. Why don't you write novels instead? In literature, those defects are virtues."
Allende's nineteen books fall into the interweaving, sometimes competing categories of fiction and memoir. In her interviews, she has admitted her capacity for invention — "I made up my memories, most of them. I no longer know what is true, what is not" — and accepted the label of magic realist only with the qualification that "magic, in my case, stands for emotions." Those emotions are often in tumult, as in the last pages of Paula,Allende's memoir on the death of her twenty-eight-year-old daughter:
I'm lost, I don't know who I am, I try to remember who I was once but I find only disguises, masks, projections, the confused images of a woman I can't recognize. Am I the feminist I thought I was, or the frivolous girl who appeared on television wearing nothing but ostrich feathers? The obsessive mother, the unfaithful wife, the fearless adventurer, or the cowardly woman? Am I the person who helped political refugees find asylum or the one who ran away because she couldn't handle fear?
In the last paragraph, as the daughter slides from coma to death, the mother slides into another agonized memory, and then into a releasing, house-of-spirits acceptance:
As I dissolved, I had the revelation that the void was filled with everything the universe holds. Nothing, and everything at once. Sacramental light and unfathomable darkness. I am the void, I am everything that exists, I am in every leaf of the forest, in every drop of the dew, in every particle of ash carried by the stream, I am Paula and I am also Isabel, I am nothing and all other things in this life and other lives, immortal.

Godspeed, Paula, woman.

Welcome, Paula, spirit.
---
Daybook is contributed by Steve King, who teaches in the English Department of Memorial University in St. John's, Newfoundland. His literary daybook began as a radio series syndicated nationally in Canada. He can be found online at todayinliterature.com.