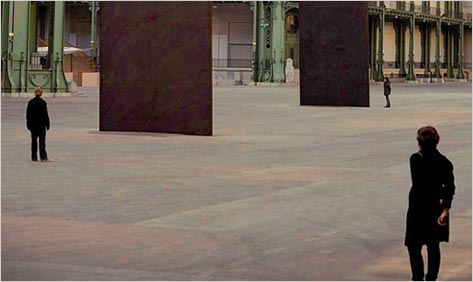 For a book about contemporary culture, The Art-Architecture Complex carries a rather menacing title, recalling Dwight Eisenhower's shady, all-pervasive "military-industrial complex." But in his first study of architecture, the prolific art historian and critic Hal Foster makes a compelling case that architecture seems more like art, and art like architecture, than ever before. "Image-making and space-shaping" have become part of one continuous field, he argues, and that might not be such a good thing.
Foster charts a progression from the so-called International Style of the interwar period through a Pop-influenced sixties to the current "global style," which he identifies most closely with three "master designers": Richard Rogers, Renzo Piano, and Norman Foster. These contemporary architects, "in tune with the abstraction of cybernetic spaces and financial systems," have given us the look of the present, privileging lightness and transparency — think of Foster's glass dome for the Reichstag in Berlin, or his "Gherkin" skyscraper in London. But those seeming virtues can have a sinister flipside: the glass dome of the German parliament obscures how little impact citizens have on the debate below, while the sheer surfaces of the Gherkin belie "ever-greater financial, corporate, and governmental black boxes."
Something else has shifted in contemporary architecture. For most of the twentieth century, the architectural avant-garde drew on philosophy, science, and theory to inspire their designs. Now, increasingly, art has become a starting point for architectural practice. Zaha Hadid, whose Guangzhou Opera House has become an instant icon, cites the Russian painter Kazimir Malevich as an inspiration; the team Diller Scofidio + Renfro, architects of the elevated New York park known as the High Line, have made work directly quoting Marcel Duchamp. This "reciprocity" between art and architecture, Foster writes, has in turn transformed the practices of living artists, many of whom are now working at an architectural scale — though here, unfortunately, he glosses over younger practitioners such as Christoph Büchel or Olafur Eliasson and concentrates on stalwarts like Richard Serra (age seventy-two), James Turrell (sixty-eight), and Dan Flavin (dead).
Foster is at his best at the nexus of the art-architecture complex: the design of art museums, the churches or palaces of our time. He takes a withering look at repurposed industrial buildings, such as Tate Modern in London or Dia:Beacon outside New York, monuments to "a postindustrial economy of service and sport, culture and entertainment." But he is even harsher — and not undeservingly — about the Museum of Modern Art, New York's $858 million temple of "elegant austerity," where spare and minimal have never seemed so expensive. In this new age, Foster insists, architecture is all about display, and our buildings have become "both the setting for fine commodities and the fairest commodity of them all."