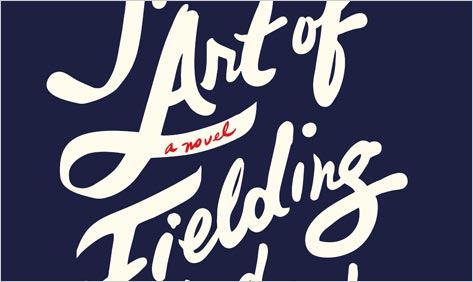 When I was a young person I went through sports books like a ravening beast and had an especially large appetite for baseball books: histories and biographies, and novels, of course. I never got tired of the standard formula: A natural talent comes to the big team out of the boonies. This is the rube, sometimes known as the kid or the busher. He doesn't fit in; the guys are mean to him; he's lonely until one of the veterans takes him under his wing. He settles down; shows his stuff; becomes friends with his teammates—except for one guy who resents him. The team begins to have a terrific season and the kid is key. Then disaster strikes—an injury, the yips, something bad. The kid, prey to the blue devils, almost gives up; but in his darkest hour something edifying occurs, a pep talk, a lesson in courage, and the next thing you know he's in the game, the Big Game. It's the bottom of the ninth, two men out; it's up to the kid and…. Well, I won't give away the ending.

Chad Harbach's The Art of Fielding tells the old story, its familiar arc just as reliable as it ever was, though it is encumbered by some heavy literary flannels. Born and raised in South Dakota and just out of high school, Henry Skrimshander is a scrawny, brilliant shortstop. He is spotted one day by burly classics scholar Mike Schwartz, the catcher and team captain for a college varsity baseball team. He knows he is witnessing genius:
The kid glided in front of the first grounder, accepted the ball into his glove with a lazy grace, pivoted and threw to first. Though his motion was languid, the ball seemed to explode off his fingertips, to gather speed as it crossed the diamond. It smacked the pocket of the first baseman's glove with the sound of a gun going off…. He didn't seem to move faster than any other decent shortstop would, and yet he arrived instantly, impeccably, as if he had some foreknowledge of where the ball was headed. Or as if time had slowed down for him alone.
Schwartz wants the kid on his team: strings are pulled, and three weeks later Henry is a "freshperson" at Westish College, an archetypal small liberal arts college in upper Wisconsin on Lake Michigan. Not particularly successful in athletics, Westish takes great pride in having a once-lost manuscript of Herman Melville's, the text of a lecture he gave there in 1880, found ninety years later tucked away in the library. The great discovery was made by an undergraduate, Guert Affenlight, who, as a consequence, went on to become a Melville scholar and the author of an influential work called—alas—Sperm-Squeezers. Possession of the manuscript induced Westish to change the name of its varsity teams to the Harpooners; to erect a statue of Melville on the campus; and, in the fullness of time, to offer Affenlight the position of president of the college, which he accepted.

That's the setup when Henry arrives at his assigned dorm room toting his vade mecum, The Art of Fielding, a collection of gnomic observations on baseball and life by a Hall of Fame shortstop, one Aparicio Rodriquez. Henry's roommate, Owen Dunne, all elegance and poise, introduces himself as "your gay mulatto roommate." He too, it emerges, has a copy of Rodriquez's book and is also on the baseball team.

After a lonely few months, Henry is taken in hand by Schwartz, who schools him in sports nutrition, workouts, and weight training. Henry begins to bulk up: "He had to be a genius and a monster. He had to eat, and eat, and eat. He lifted weights so he could chug his SuperBoost, lift, chug, lift, chug, trying to gather as many molecules as possible under the name Henry Scrimshander." With the baseball season, Henry shines, and by his junior year, so do the Harpooners, seemingly bound for unprecedented glory.

Henry is followed by major-league scouts (who "looked like over-sized consultants or CIA agents playing a very reserved sort of hooky") and is set to break his hero Rodriquez's record for errorless games. But, no: A wild throw, the first of his college career, whistles into the dugout and beans Owen. It's bad; Henry loses his nerve; and from then on can't get off a fast, on-the-money throw to first. "Instead of rifle shots fired at a target, they felt like doves released from a box." This terrible affliction, known as "Steve Blass Disease," is identified, in the heavy ponderings of the author of Sperm-Squeezers, as a species of "Prufrockian paralysis."

Henry goes into decline and alienates Schwartz (who has plenty of his own problems), and pages and pages of excruciating multi-front depression ensue. Meanwhile Guert Affenbright's daughter, Pella, has appeared, having left her husband, and has begun a romance with Schwartz, and that runs into trouble. Affenlight, once a ladies' man of some standing, takes up with Owen. I must not give more of the plot away, though to the extent that it's a sports book, it is as comfortable as an old shoe. As a coming-of-age novel, which it is also, it is earnestness itself.

The novel gets out of hand when lives and literature become one, when characters act in ways that only other works of literature can account for—though not explain. In one instance, Henry, Schwartz, Owen, and Pella band together to realize a Melvillian trope by digging up a body from a cemetery and hauling it off to a watery grave in Lake Michigan, all undetected. After which, Henry comes to grips with his Prufrockian paralysis by throwing baseballs at one of the spades used to exhume the corpse. In another exercise, Pella eats an earring her estranged husband gives her, vomits it up in the toilet, and fishes it out. To the reader, this improbable act seems to be a wink across the footlights to Jonathan Franzen, whose hero in Freedom swallowed his wedding ring and retrieved it in an even more unhygienic fashion.

Though Harbach's descriptive writing on baseball and athletic training is superb, as I hope the quoted passages have shown, there is an emulative, obeisant air about this novel. It seems almost frantic in its other-directedness, as if it were trying to be part of something bigger. Its allusions to other works seem there for that purpose, but in the end they are simply a clutter of souvenirs and knickknacks that have added no value. On the other hand, as Casey Stengel, whose wisdom no one can doubt, pointed out: "Ability is the art of getting credit for all the home runs somebody else hits."