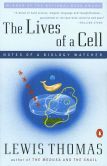 Maybe the thoughts we generate today and flick around from mind to mind…are the primitive precursors of more complicated, polymerized structures that will come later, analogous to the prokaryotic cells that drifted through shallow pools in the early days of biological evolution. Later, when the time is right, there may be fusion and symbiosis among the bits, and then we will see eukaryotic thought, metazoans of thought, huge interliving coral shoals of thought. The mechanism is there….

–from The Lives of a Cell, the 1974 National Book Award winner by the scientist-essayist-poet (etc.) Lewis Thomas, born on this day in 1913
The Lives of a Cell was an NBA winner in both Arts and Letters and Sciences, and Thomas's other books, covering a range of science and social interests, have often been praised for their prose style. The 2013 winner of the Lewis Thomas Prize, awarded annually by The Rockefeller University to a scientist for artistic achievement, is Kay Redfield Jamison, author of groundbreaking work on manic-depressive disorders (from which she suffers) and "exuberance," as well as the bestselling autobiography An Unquiet Mind and a marriage memoir, Nothing Was the Same.
---
Daybook is contributed by Steve King, who teaches in the English Department of Memorial University in St. John's, Newfoundland. His literary daybook began as a radio series syndicated nationally in Canada. He can be found online at todayinliterature.com.