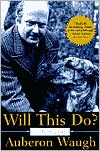 The journalist-novelist Auberon Waugh was born on this day in 1939, second child to Evelyn Waugh. Though often couched in humor, many anecdotes in Auberon's autobiographical Will This Do? reflect his uneasy relationship with his difficult, distant father. Here he describes returning home from boarding school for Christmas, aged seven:
In the pink bathroom, to which I was taken within minutes of my first arrival in this strange house, there was a printed postcard stuck above the cistern: "From Mr Evelyn Waugh, Piers Court, Stinchcombe, Nr Dursley, Gloucestershire. Dursley 2150." Underneath it, in his own handwriting, was written: "Should the handle fail to return to the horizontal when the flow of the flow of water ceases, please agitate it slightly until it succeeds."
I read that message every time I urinated at home for the next eleven years, and never ceased to resent it. The downstairs lavatory in the front of the house, decorated with Abyssinian paintings, with an armchair seat upholstered in leopard skin, was out of bounds to children. So was the butler's lavatory immediately behind the business room on the other side of the baize door. Every servant had his lavatory, according to degree, down to some outside earth closets for the gardeners. Quite possibly they all had notices in my father's handwriting, with instructions about what to do at every stage of the process.
At the time of his death in 2001, Auberon Waugh was one of England's most widely read and widely reviled journalists — for being, said the Guardian, "vicious, backbiting, snobbish, bullying, ignorant, puerile and slightly psychopathic." William Cook's recent biography-sampler, Kiss Me, Chudleigh, is aimed at defending Waugh from such judgments. Cook's subtitle, "The World According to Auberon Waugh," reflects his belief that Waugh was not merely a "master of the vituperative arts" but a social philosopher with a consistent outlook: anti-establishment, anti-America, anti-fad, anti-cant…and, above everything, pro-humor. Cook's title comes from Waugh's near success, during his stint in National Service, in doing what many wanted to do to him. While attempting to unjam his machine gun he fired a half-dozen rounds into his chest; when a tough corporal named Chudleigh approached to help, the gravely wounded Waugh asked for a kiss, a request meant to echo Admiral Nelson's at Trafalgar — his "Kiss me, Hardy" whispered as he died aboard the battleship Victory in the arms of its Captain Thomas Hardy.
---
Daybook is contributed by Steve King, who teaches in the English Department of Memorial University in St. John's, Newfoundland. His literary daybook began as a radio series syndicated nationally in Canada. He can be found online at todayinliterature.com.