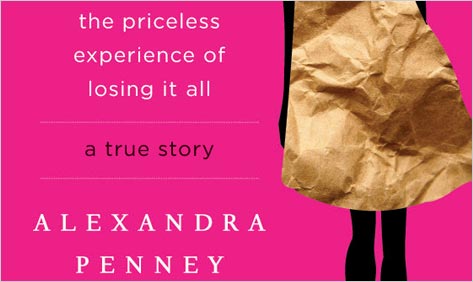 Bag Lady Syndrome may not be an actual disease, but it is a disorder that apparently haunts quantities of successful, well-heeled women: the deep-seated fear of losing everything and ending up destitute and alone.
"In December 2008," Alexandra Penney writes, "my worst nightmare came true. I found out I was dead broke. I had lost all my savings in the colossal Ponzi scheme of Bernard Madoff, forthwith to be known as the MF, which in plain English stands for…." — well, maybe you can guess what it stands for. The bad news, appropriately enough, came while Penney was setting Baccarat crystal glasses on the dining table in her Manhattan apartment overlooking the East River. Before the evening was over, she couldn't be sure she even had a home left.
"Dead broke" in fact turns out to be a bit of an exaggeration, and Penney was never in danger of the kind of real poverty that soon faced some of Madoff's victims. She possessed some real estate, mortgaged though it was; she had countless influential friends and associates; most importantly, she had earned her living all her life and possessed a strong work ethic. (In fact Tina Brown called her as soon as she heard the news and asked her to write a blog for The Daily Beast.) Also, as Penney readily admits, the prospect of losing her son or her health would have been a worse "nightmare" than what actually happened to her. Still, The Bag Lady Papers is a spirited and thoughtful meditation on just what money can and can't buy, and on the deep irrationalism of our financial hopes and fears.